The Metamorphosis Of Fear
When fear takes center stage in one's life, joining theater can be transformative.
Everyone has a fear or struggle that at times makes one feel dominated. At times it can be unbearable to deal with; however, it is important to remember that this feeling doesn't last forever. The human species can overcome almost all obstacles put in front of it. For Kristin Baker and Carlee Munson, the struggle of social anxiety is one that they were strong enough to overcome.
Hundreds of students have had the opportunity to experience the many lessons Mrs. Baker has to offer. Among these Elkhart-East students, Carlee Munson, 12, has had the opportunity to grow and overcome her fear–social anxiety. Munson has battled with social anxiety and realized in numerous ways it was holding her back from her full potential. She goes on to share: "My sophomore year, I struggled a lot with just anxiety in general. I struggled with an eating disorder, and through that time, I spent a lot of time evaluating my past few years. I realized how much time I was wasting away by being held back by my anxiety," she continues, "so I knew that I had to start making major changes." With this being said, Munson was able to be brave and face her fear–and join theater.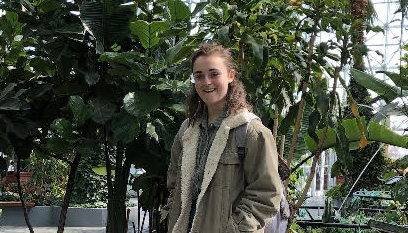 Throughout her high school experience, Munson was able to participate in theater, playing various roles and being on stage. Naturally, this lessened her fear and led her to be more outwardly confident. Munson notes," I was so passionate about wanting to get better in theatre that my passion drove me to keep trying and to push past my fear of speaking out. I still struggle with it –like I'm still pretty quiet and I get really nervous and cry still," she admits, "but it's a lot better than it has been." Muson's growth is admirable and she believes"it's hard to deal with social anxiety but beyond being afraid, there is a world of great things." She concludes by reassuring others. "It seems impossible to overcome, but I can assure you that it's possible."
Munson is not the only who has been open about her struggles with social anxiety, as Mrs. Baker herself has been able to overcome this fear, as well. For Baker, her faith and her students have helped her overcome this fear. "My faith and participating in theatre helped me a lot!" Mrs. Baker inspires her students to overcome their fears so that they can reach their full potential. She encourages them to share their stories and embrace the lessons that each of them have to offer. And, by doing so, many have been able to come out of their cocoon and become the butterflies she displays throughout her classroom.
Baker notes that her proudest moment when overcoming this fear is "every time [she sees] a student overcome his/her/their fears in [her] classes or on the stage."  She elaborates further: "It's why I became a teacher. I wanted to help kids like me who are walking around in this cocoon of fear. I want them to find the freedom to soar like I found. It's a blast watching students discover their awesomeness!"
Everyone faces a fear or has a struggle that at times feels like will never go away, one that holds them back from being everything they want to be. However, these struggles and the journey one takes, leads them to becoming the person they were meant to be. The struggles one faces make the successes more meaningful and special.
Butterflies are not created in one day; they are worms who grow and blossom into beautiful, bold, creations. Everyone is a butterfly and with every hardship one endures, leads them closer to shedding their cocoon and blossoming into that bold, beautiful butterfly they were meant to be.