Inked Up: The significance and hidden value behind tattoos
Students share the meaning behind their tattoos
As human beings, it is a necessity to understand the importance of having the ability to express ourselves. This is done in many ways; for example, the music we listen to, the clothes we wear, and the way we present ourselves are all examples of self expression, but perhaps the biggest, and most permanent way we express ourselves is through what those brave enough actually get done to their body: inking up.
Tattoos have such significant meaning to them, there's no doubt if you are willing to get one, it's for a good reason. Every tattoo has a story behind it: a hidden meaning, and most importantly, sentimental value to the person with the tat.
Junior Daniel Ball recently got a new tattoo, but most people don't realize his ink is actually a dedication to both his great grandmother and his grandma.
"My great grandma was killed in a car accident a couple years ago, and just this past couple months ago my grandma actually passed away from a brain aneurysm," Daniel said. "I did something that meant a lot to me and I really got it as a reminder that they are always going to be here with me."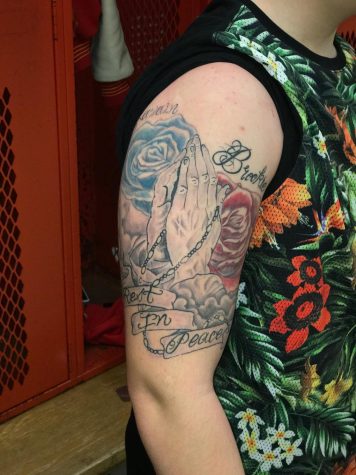 "I will never get it covered up and I will never even try to hide it because it is something I really wanted," Daniel said. "My grandma had always told me she wanted to get me my first tattoo, and originally, I was just going to get a tattoo of one rose with my great grandma's name in it, but then everything happened with my grandma and it made me decide to go even bigger with a tattoo of prayer hands, a cross, rest in peace, and two roses with both their names in them. I love it."  

Daniel isn't the only junior in his class with sentimental ink, classmate Lily Ball also has quite a few tattoos with meaning behind them she could never replace.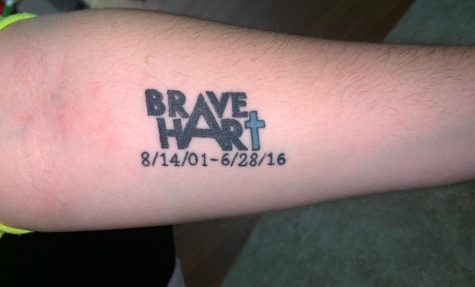 "I have a few tattoos: my Bravehart one, I got in honor of Mr. Hartman's son, he inspired me a lot and I just wanted that constant reminder, that constant inspiration that he gave to me to be with me all the time. I also got a daughter tattoo with my mom on Mother's day, and I got that one because my mom is my best friend, so it's nice to have that with me so I can always think of her," Lily said. "My most recent tattoo is of an airplane with the words 'To infinity and Beyond'  because my big daddy [grandfather] was really important to me and that's something we usually always said to each other. I got that in dedication of a man who always loved me, fought for me [and our country] and reminded me that he cared about me."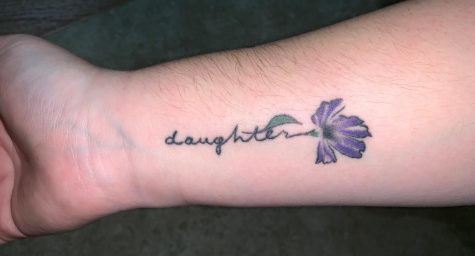 Lily made it clear she would have never gotten any of her tattoos if they weren't meaningful.
"I wouldn't have gotten them if they didn't mean something to me," Ball said. "If they weren't something I thought was worthy of putting on my body forever, I would not have gotten them. They are all reminders of something really special to me, so I would never take them back."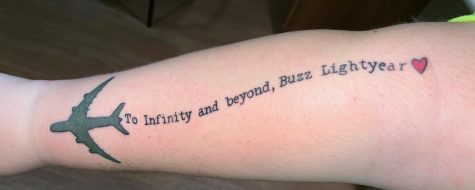 Out of the 1,565 students that go to Elkhart Memorial, one student has a significant amount of tattoos: Senior Xavier Vaughn.
Similar to Daniel, Vaughn's most meaningful tattoo is a dedication to his grandmother.
"The most meaningful ink to me is the tattoo I got for my grandma," Vaughn said. "because she gives me the world."
Not only did Vaughn get a tattoo in dedication to his grandma, but he also has a tattoo as a representation of someone else that means a lot to him.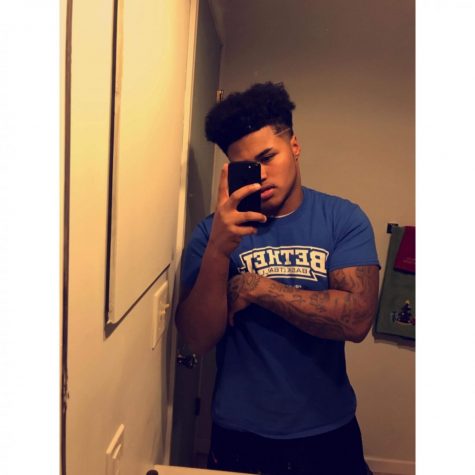 "The favorite tattoo that's on my body is the portrait of Jesus on my arm," Vaughn said., "That's because he's always been by my side through the rough patches and the good times. I had to get it."
If you know Vaughn, you know he doesn't just have a couple tats here and there. The senior's body truly is an art canvas that keeps on growing. Ranging from silly tattoos such as a smiley face on his hand, to sentimental tattoos such as the portrait of Jesus. With so much ink, one would assume he might have a couple tats he doesn't like. For Vaughn, this is the truth.
"I'd get rid of my 'Blessed' tattoo I got on my left forearm," Vaughn said. "I honestly got it for no real reason, and I plan on getting it covered up within the next few weeks."
Why exactly does Vaughn have all these tattoos? The answer is simple. It's his way of being able to freely express himself in a way he loves.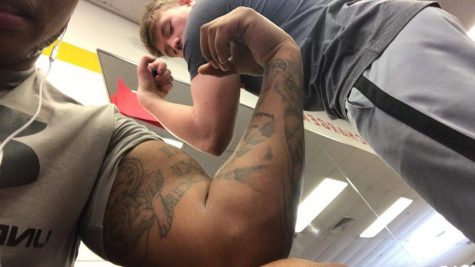 "I got tatted because I loved seeing the art work on people, tattoos tell a story behind them," Vaughn said. "I'm not the type of person to tell people my pain, so I put my pain into the ink that's on my arms."
If a person is interested in getting a tattoo, there's a lot of things they have to take into consideration before making the big decision. The first is one's choice of art.
"Make sure it's something you would be fine seeing all day, everyday, for the rest of your life," Lily said.
Next, one should consider their ability to tolerate pain.
"If you're worried about pain, it's actually over sooner than you think and it's not bad," Lily said. "The only thing worse than the pain of actually getting the tattoo is the itch you get during the healing process. They [tattoos] itch so bad and all you want to do is scratch at it, but you can't because it's basically a wound that's healing."
Daniel advises against one major mistake when deciding on the artwork for a tattoo.
"If you get a tattoo, make sure it is something that you really want," Daniel said. "Do not get names of your lovers, as in boyfriends or girlfriends. That would be your biggest mistake, and it just looks silly to other people if they knew you got a tattoo of your boyfriend or girlfriend's name."
Tattoos are significant in so many ways. They allow people to express themself, they provide a sense of creativity and freedom, and most importantly, they're sentimental.
"Don't be afraid to get tatted up in fear of the pain from the needle," Daniel said. "They don't hurt unless you get them in a sensitive spot. Tattoos are awesome, and after you get one, you get an instant sense of gratification. Just remember, after you get your first tattoo, you're just going to want to keep getting more and more."