Big third quarter leads to Charger victory
Elkhart Memorial's 27 point third quarter led to a 57-46 victory over the Northwood Panthers.
Friday night's game started as a tough one for both Elkhart Memorial and Northwood.
Whether it was an abundance of great team defense or a lack of efficient offense, both teams struggled in the first half.
Each squad finished the first quarter with only eight points.
While the Charger's struggle continued in the second quarter, the Panthers were able to pick up the pace, out scoring Memorial 12-6.
"I think it was a combination [of good defense and lacking offense]," said Coach Kyle Sears. "Northwood was very patient on offense and did a good job of finishing. We struggled early with finishing our shots. It felt like there was a kid on the rim."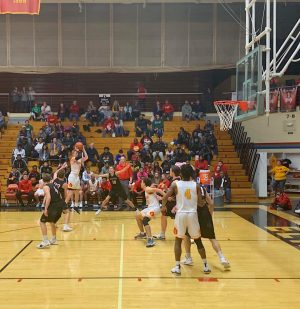 Headed into halftime, down 20-14, the Chargers knew something needed to change, and it needed to happen fast.
That it did.
The Chargers came out of the intermission scorching hot, going on a 21-3 run to take the lead.
Senior Trey Gallope started the run with two quick layups, followed by a pair of three point plays by Senior Jai-Veon Qaiyim.
After a deep triple from Senior Hank Smith, Northwood called an immediate timeout that would end the run.
"Just continuing to get stops and run up the score," Smith said. "And I know the fans want to see dagger threes, so I have to take them."
The quick run starting the half led to a 27 point quarter by the Chargers, and they didn't let up from there.
Memorial would end up outscoring Northwood 43-26 in the second half, and winning with a final of 57-46.
Smith would lead the team with a game high 16 points. Sophomore D'Arjon Lewis also poured in 15, while Qaiyim contributed with 12 points.
Friday's Victory over the Panthers increased the Chargers record to 14-4 and 5-1 in conference play.
Elkhart Memorial will host Saint Joe this Friday, Feb. 15 in hopes of increasing their winning streak.