"We wouldn't be friends if it wasn't for wrestling."
Junior Kamden Goering and sophomore Clayton Lundy find a bond in wrestling
The word "brotherhood" is often thrown around in conjunction with wrestling, but sophomore Clayton Lundy and junior Kamden Goering confirm that the bonds that are built on the mat are indeed similar to that of a family.
"We wouldn't be friends if it wasn't for wrestling," Goering said.
After hearing about their practice schedule, morning practice on Tues., Thurs., Sat. and afternoon practice every weekday, even over Christmas break, it is hard to expect anything but these group of guys to become what they would consider a "family."
"You got to think of it like a sibling," Goering said. "And how much they can annoy you, but you can never think of not loving them."
Together, this team works through a number of obstacles. Along with the commonly known "wrestler diet" of being required to go up or down a weight class, the first word that came to Lundy's mind was it "sucks."
"Eat smart with consideration…and be mature about it," Goering and Lundy agreed.
With most of the team going through the work and struggle of having to maintain a certain weight, this creates even stronger team camaraderie.
But everyone knows, with every family, comes the arguments and feuds. But more importantly, what do they do when these types of disagreements arise?
"We leave things outside wrestling," Goering said. "but if there is beef inside the wrestling room, you wrestle it out, get over it and go back to loving each other."
With the long list of pressures wrestlers feel, it would be expected for there to come a close breaking point in the season and the thought of giving up.
"At the end of the season, but we don't let each other break because the grind is worth it in the end," Goering and Lundy agreed.
With Sectionals behind them and both boys moving on to the next round and much more postseason tournament matches to compete in, the boys have two different approaches.
Goering's plan is to take it one match at a time and to focus on putting all of his thought and effort into that one match so that he doesn't get ahead of himself.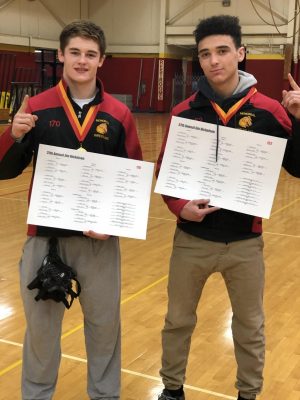 On the other hand, Lundy's approach is to go into every match knowing that he needs to dominate and that he needs get the job done.
With Regionals coming up this weekend on Feb. 2 and 3 at Goshen High School, fans are looking forward to seeing how these two and the rest of their team will do for the rest of the tournament. Lundy and Goering, on the other hand, are humbly, yet confidently looking forward to heading down to the State tournament.
Looking ahead, into the future for these boys, Lundy has a goal to wrestle in college.
"I would love to wrestle in college," Lundy said. "But it's all opportunity based. I'll do what I think is best for me at that time."
But then Goering's answer took quite a strong and different angle.
"My plans are to go to college," Goering said. " And if God wants me to wrestle, then he'll show me a sign and I'll wrestle."