Athlete of the Week: Freshman Mady Axsom
Mady Axsom, rising girls basketball athlete
Since the beginning of fifth grade, freshman Mady Axsom has been growing a love for basketball. Now, she's a starting shooting guard on the varsity basketball team.
Axsom grew up with two older siblings who both loved the game. With a great support system on and off the court, not only has she accomplished physical goals, but she also proves to be mentally strong.
To top off her love of basketball, Axsom also runs track and field and is a respected member of the golf program. With a successful freshman season with the golf team, she looks forward to the seasons ahead.
"Golf is so much fun," Axsom said. "The girls are amazing."
When she is not in season, she looks forward to the time she spends being active during the off  season conditioning and doing pre-season workouts, but someone as busy and as dedicated as Axsom has to stay motivated.
"My favorite quote is 'Pressure is privilege," she said.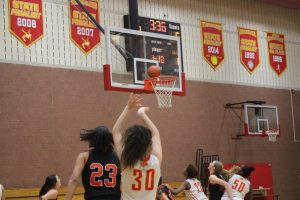 Before games, Axsom usually eats and takes a nap, then heads to Memorial for the big game night.
Cardi B's song 'Get Up 10' is her pregame hype-song, and before games, she can be found praying with her teammate junior Mya Reeves.
"We've all played with each other for awhile and we all have bright midsets," Axsom said.
Before her first varsity game, Axsom felt a little nervous, and she felt a lot of pressure, but her strong mentality helped her through. She scored 20 points during her first varsity game.
"It was a moment I will never forget," Axsom said.