Chargers make strong push late, seal the win
Despite troubles from the free throw line, Elkhart Memorial pulls away from Goshen, winning 53-48
The Elkhart Memorial Chargers started Friday night's boys basketball game red hot. In a conference matchup with the Goshen Redhawks, Senior Hank Smith got the juices flowing early for the Chargers. Smith knocked down his first four shots, three of them being triples, to give him a quick 11 points just minutes into the game.
"Hank started very hot and Goshen adjusted well," Coach Kyle Sears said. "The rest of the team did a great job of adjusting, especially Trey [Gallope], to pick it up offensively. The team continues to adjust to many different defensive looks and step up when needed! It is very unselfish by all of them! Fun to see!"
Smith would go scoreless the rest of the night.
After the hot start, Goshen fought back quick and continued to ride the Charger's hip all game long.
A big conversation among the fans in the crowd was the games' referees. Although it is not abnormal for fans to heckle the refs, fans in crowd seemed to believe they were a little "extra."
Headed into the intermission, the Chargers led the Redhawks 29-25. Despite being a well fought game all night, Goshen came out of the half firing on all cylinders, outscoring Memorial 15-10 in the third.
Trailing by only one point, the Chargers began the fourth quarter with an 11-2 run, led by Gallope who contributed six of the 11.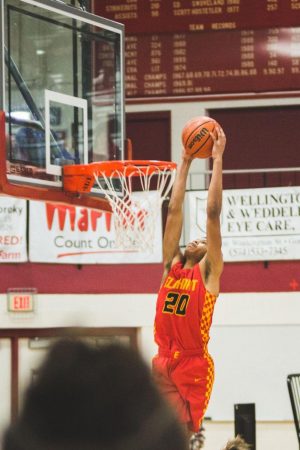 This turned a 40-39 deficit to a 50-42 lead for Memorial. The only thing left for the Chargers to do was put the game away at the free throw line, which they have been struggling to do all season. That struggle continued Friday night.
"Down the stretch, we need to make sure that we close games out well by making free throws," Sears said. "We struggled with that last night. We will continue to improve on our free throw shooting."
Lack of made shots from the charity stripe allowed the Redhawks to fight back once again, as Senior Porter Revoir made a basket to bring the score to 48-51 with 54 seconds left to play.
With just over 27 seconds in the game, Goshen turned the ball over and was forced to intentionally foul. Gallope would make a trip to the line and go 1-of-2, making the lead four points.
Goshen's Robinson and Drew Hogan both missed three pointers in the remaining 12 seconds.
With the game clock reading 0.9, Sophomore D'Arjon Lewis made 1-of-2 from the line, sealing the win for Memorial.
After a 53-48 victory over the Redhawks, the Chargers will travel to Warsaw on Thursday, Jan. 31 to face the Tigers in another NLC matchup.