Smith makes his mark, Memorial wins
Senior Hank Smith scores his 1,000th point as Elkhart Memorial routs Northridge 63-52
All season long, senior Hank Smith has been the talk of the boys basketball team. Saturday night, he showed he was more than just talk.
Before the game, fans and teammates alike piled into North Side Gym well aware that the basketball star was close to accomplishing a pretty amazing feat: 1,000 career points as a Charger. They had watched in anticipation as the season progressed and Smith neared closer and closer to this accomplishment. On Saturday he entered the game only 13 points shy.
Given the opportunity to achieve this goal is amazing on its own, but the way this opportunity was given seemed too good to be true.
Until his freshman year, Smith attended Middlebury Community Schools, which means he would have attended, and played basketball for the Northridge Raiders. Instead, in 2015, Hank and his older brother, Joe, transferred to Elkhart Memorial and became the ballers of Charger Country.
Being rivals in the Northern Lakes Conference (NLC), fans and students of Northridge did not take this lightly.
Given Smith's previous history with the Raiders, it seemed unbelievable that he would have the opportunity to make history facing his biggest rival.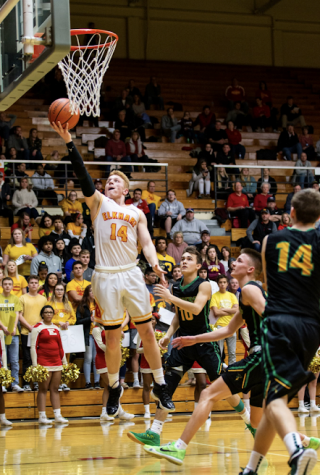 "Sure it was a little more special," Smith said. "It's always nice beating Northridge. It was just really cool that Sam [Hank's younger brother] and I got to go against each other."
Many would agree that Smith does an exceptional job at making the most of every opportunity he is given, and that is what he did.
Scoring nine points in the first half, Smith only needed four more to enter the one thousand club. Fans were eager to watch his second half performance.
After a two point third quarter, at the beginning of the fourth, sophomore D'Arjon Lewis started a fastbreak, and hit a cutting Smith for an easy layup. A layup that would be the 1,000th point of his career.
As the ball fell through the net, everyone erupted, fans from both teams screamed and jumped holding signs, recognizing the feat of one thousand points.
"What an awesome experience for him," said Coach Kyle Sears. "I was extremely happy for him because of all the hard work that he has put in to reach that milestone is incredible."
After an immediate timeout following the basket, the game was paused as Smith posed with a basketball, commemorating his accomplishments.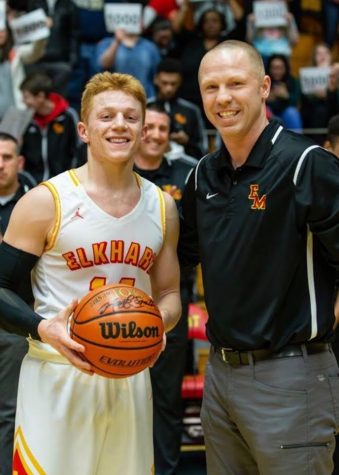 "It was amazing! It was so cool to see so many people holding those '1000' papers," said Smith. "I had no clue the game was going to stop."
As the game resumed, the Chargers finished the game strong, winning with a score of 63-52.
Smith ended the night with 19 points, to go along with 16 points from senior Trey Gallope and 14 from Lewis.
"The team played well. They passed the ball well and unselfishly. Trey and D'Arjon had good games in addition to Hank. Brackton also rebounded well," said Sears. "The team continues to improve and learn to play together. We have come a long way since the beginning of the season."
The Chargers will travel to Goshen High School this Friday, Jan. 25 to take on the Redhawks in a conference matchup.