Athlete of the Week: Zack Rohm
Senior baseball player Zack Rohm reflects on how much baseball means to him and what he's missing out on due to the cancelation of spring sports. 
GENESIS: How did baseball find its way into your life and what makes it so special? 
ZACK ROHM: Ever since I was 7, I've been in love with the game of baseball. The atmosphere on the field is unmatched and getting to compete in that way with my friends always made the seasons really fun. 
G: Obviously, given our current situation, you won't get to experience your final baseball season. How does that impact you and your teammates?
ZR: It's really disappointing that we as a team couldn't have this final season together. For me, it would've been my last time ever playing baseball because I'm not playing in college. 
G: Let's say the season didn't get cancelled. How confident were you in your team's ability this year?
ZR: We had a lot of experience at the varsity level. We had 10 players that already had a good amount of varsity playing time under their belt, so most of us were used to playing under a little bit of pressure. I think we would've had a great last year together.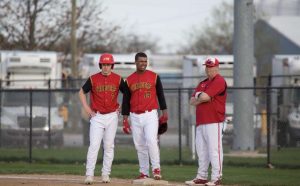 G: With that being said, what do you plan on doing after finishing what's left of this weird semester? 
ZR: I plan to attend Purdue University for mechanical engineering. 
G: Do you have anything else you want to add on your thoughts about COVID-19 impacting not just you, but all student athletes? 
ZR: All I can really say is has impacted everyone differently. Those who aren't seniors are obviously hurt still, but they at least get another season to play and I'm a little jealous. But I'm still grateful for the years that I got to play and the friends I made.