Artist of the Week: Central Edition, Junior Alexis Enders
Taking a unique approach to the Artist of the Week, this week will feature an artist from Elkhart Central, whose artwork is admired by those who go to Elkhart Memorial. Junior, Alexis Enders, who prefers to go by Lex,  is an avid painter and drawer, and often works with different mediums, and has even painted on CD's. Through a short interview with her, she revealed how she got her start.  
GENESIS: What first inspired you to be an artist? Who was your greatest influence?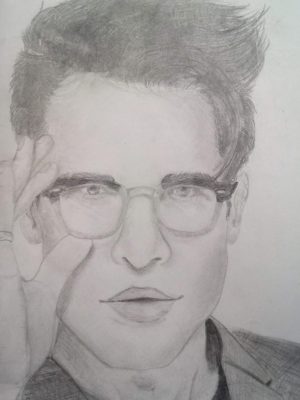 LEX ENDERS: "My depression and need to release my emotions. My greatest influence wasn't a person."
G: What challenges did you encounter when you began your artistry career? How did you overcome them?
LE: "I went through phases where I couldn't be bothered to draw or paint. I was brought down a lot too, but I just kept pushing."
G: What is your favorite piece of all time and why?
L: "My favorite piece of all time isn't my own work, but I would have to say Starry Night."
G: What advice would you give to aspiring artists out there?
L: "I would tell them to stick with their art style and to stick to their gut. There is not such a thing as 'bad art', just different art styles that appeal to different people."