"Blades of Glory" is a wholesome comedy movie for you!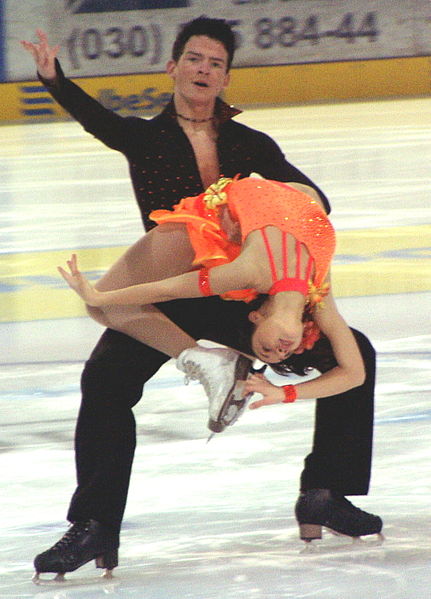 If you've ever wanted to see a wholesome comedy movie, this is where it is at: "Blades of Glory". This movie is wanky, but in a good way. You see, the movie isn't about knives or anything that may be seen as a weapon, based on the title. 
No, the movie is much more than that. The movie is about figure skating. Yes, figure skating. Before you decide that you don't want to watch it anymore, let me explain. The movie is based off of a fictional scenario. 
The two main characters, Chazz Michaels Michael (played by Will Ferrell) and Jimmy MacElroy (played by Jon Heder), are both olympic figure skaters. However, the two of them face off during the Winter Olympics, each earning gold. 
The two opposite figure skaters are then forced to share the winner's podium. Almost as soon as they've gotten the "glory", they quickly lose it, as well.
As they were descending from the podium and into the fisticuffs, they accidentally set the mascot on fire, which resulted in them losing their medals, and losing their public image as "the best" figure skaters. 
The only way they can both skate again, is if they both skate with each other, as a duo. Just like one of their performance costumes, they are like polar opposites; fire and ice. 
They end up arguing a lot, and getting in little catty fights, however, they end up becoming good friends and winning after their final performance. This movie is hilarious. Will Ferrell is a generally funny dude, and it shows in this movie. 
When talking about the general sport of figure skating, Will Ferrell said, "The world the movie was having fun with, I was at least a fan of. I was a fan of watching it, and appreciating it at the same time as mocking it."
"There's a percentage of the audience," Ferrell continues, "who like it as pure sport, but there are a lot of people who are like, 'Wow, look at that outfit,' or, 'Look how serious they are as they skate to this song.' I was probably more drawn to it on pure spectacle more than anything else." 
It's groovy that even after he'd learned to skate, he still had an appreciation for the sport, in general. There is a lot that goes on in the movie, but the comedy is heavily present, and it is definitely a movie worth watching.
The views in this column do not necessarily reflect the views of the GENESIS staff. Email Lyn Jarrell at [email protected].