Musician of the week: Finnian Howell
Finnian Howell is a outstanding Freshman musician with passion for music. She is a member of the EMHS Crimson Charger Command, the Wind Ensemble, the Jazz Band, and the Pep Band.
GENESIS: What instrument(s) do you play?
FINNIAN HOWELL: I play bassoon, contrabassoon, trombone, and bass trombone.
G: Do you plan on pursuing music in college?
FH: I do plan on pursuing music in college. I hope to become a professional bassoonist in a symphony orchestra.
G: Do you have any other musical talents?
FH: I am learning to play the electric bass and ukulele.
G: Outside of band, what do you do with your free time?
FH: During my free time, I like to paint and do other types of art, as well as continue learning the bass and the uke.
G: With three more years left in high school, do you have any goals in band?
FH: I hope to eventually become drum major for my marching band.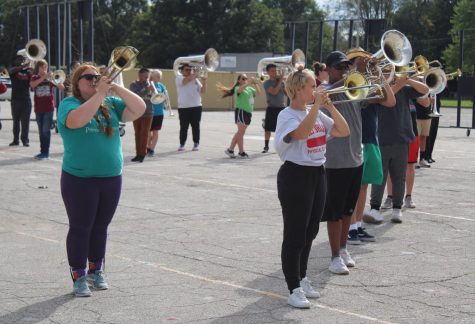 G: Tell me about the most memorable moment you've experienced in band.
FH: The most memorable experience I've had in band is definitely the first time I performed a full run of my marching band show.
G: Band is very time consuming especially around marching band, what keeps you going?
FH: What keeps me going is the fact that I love what I do. I love music and performing, and though the practices and rehearsals can get tough, the idea of being able to perform my music that I and everyone else have worked hard on gets me through them.
G: What is your favorite part of band and why?
FH: My favorite part of band is easily the performances. Though the rehearsals can be difficult and can get stressful, being able to share the music with an audience makes it all worth it for me.