Dillinger: Public Enemy No. 1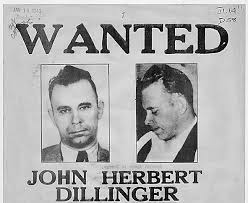 John Dillinger would be turning over in his grave—literally—had History Channel pursued the exhuming of his body to prove that Public Enemy No. 1 was indeed the man buried in the grave 85 years ago that carries his name. However, the producers backed out, preferring to let sleeping dogs lie. Yet, the tale of this (what some would call) Robin Hood of the 1930s continues to fascinate still today.
From September 1933 to July 1934, Indiana-born John Dillinger and his violent gang terrorized the Midwest killing ten people, wounding seven, robbing banks and police arsenals, and staging three jailbreaks, killing a sheriff in one and wounding two guards in another.
During his childhood, Dillinger was a troubled child; his mother died when he was three and his father remarried six years later. Dillinger resented his step-mother. During adolescence the flaws in his 'bewildering' personality became evident; he was frequently in trouble. After quitting school, he got a job in a machine shop.
Committing auto theft and a break with his father led to Dillinger to joining the Navy. Although he jumped ship as soon he got in trouble when they docked in Boston. Returning to Mooresville, he married Beryl Hovius in 1924.  Dillinger tried to rob a grocery store with Ed Singleton, in their attempt to make easy money. They were quickly apprehended and sentenced different times in prison. Dillinger received a joint sentence of 2-14 years and 10-20 years in Indiana State Prison, although he only severed nine and a half years. His wife, Beryl, divorced him after only five years of his sentence.
After breaking out of prison with Harry Pierpont, Russell Clark, Charles Makley, and Harry Copeland; he pulled several bank robberies, including robbing police arsenals. After a fire broke out at the hotel Clark and Makley were staying, they were recognized by firemen and arrested; the rest of the crew were also found and arrested.
In January 1934, Dillinger robbed $200,000 from an Indiana bank and fled to the Southwest, where he was caught ten days after the robbery. Dillinger was sequestered at the county jail in Crown Point, Indiana, to await trial for killing the sheriff in East Chicago and robbing the bank from Indiana. Authorities boasted about the jail being "escape proof," but after carving a gun out of wood and forcing them to open the door to his cell—then grabbing two machine guns, locking guards and several trustees up in the cell—John Dillinger fled from the jail and Indiana into Chicago, Illinois.
Dillinger then stayed in Chicago, after almost being caught a few times, and went under the alias Jimmy Lawrence. He went as far as to get plastic surgery, removing some moles and scars, which seemed to work, as he was undetected while at a Cubs game. After being betrayed by, what would be known by newspapers as, the "Lady in Red," Dillinger was followed into an alley after being spotted by the FBI and shot at six times. Only four shots hit him; three were superficial. It is rumored that his last words were, "You got me."
After all of that and John Dillinger's body being on display to the public, people still believe that he could be alive. There is a conspiracy about Dillinger escaping capture and being alive. Mike Thompson and Carol Thompson Griffith claim that Dillinger was their uncle and that Dillinger wasn't the body buried in his grave. Some "evidence" is the body having brown eyes, while Dillinger had famously grey eyes. Another piece is the body having different shaped ears and a heart condition. The body also does not match the fingerprints of John Dillinger.
Thus, the mystery remains. Could John Dillinger still be alive? Could he be the elderly gentleman sitting next to you at the coffee shop? Or, is this just a desperate attempt by his relatives to keep the memory of John Dillinger alive.