Senior Shamaya Bell takes home first place at the annual oratory contest
On Thursday, Feb. 27, students participated in an annual oratory contest. The contest gave students a chance to express their views on current issues, African American history, and the importance of education.
First place winner, senior Shamaya Bell's speech was titled an "Origin Story." One of her biggest arguments surrounded the negative perspective in the black community of "acting white." 
In her speech Bell denied the idea that just because she is academically driven and intelligent that she acts "white."
"You should always feel comfortable being yourself without people telling you that you're disqualifying yourself from your own race," Bell said. 
Growing up she enjoyed learning about Black History Month, particularly the black activists, such as Frederick Douglass and Rosa Parks and how they fought so that every person could have an equal chance at education.
 Bell also shared her personal experiences with this issue.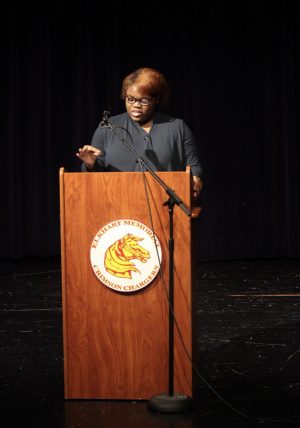 "There was one time during class where a girl insisted that I wasn't acting my own race and that I was trying to be someone I wasn't," Bell said.
  "You speak too proper for being black," is one of the many comments Bell has received over the years. However, she decided to persist and she decided to push back against social expectations.
Her accomplishments are many. Not only is this her fourth year competing in the oratory contest, but she is also successful in other areas of the school taking Advanced Placement classes, competing on the Speech and Debate team, acting in the school plays, participating in Start-up Moxie, and serving as one of two student broadcasters. 
"People had been telling me I act white my entire life and I would get so upset and frustrated because I didn't understand, I didn't want to be labeled or judged for being who I am," Bell said. "It was when I finally said I accept myself for who I am no matter what and I wasn't willing to change myself for anyone. It wasn't only an insult to me but on an entire race of people which then led me to want to educate others."