Lifeguarding Class: Off to a Good Start and Going Swimmingly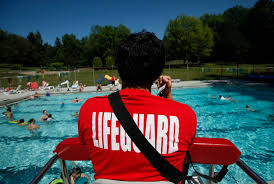 Aug. 21, 2019: Physical education instructor Mr. Matt Erlacher begins class by explaining to the lifeguarding students that they would be doing the 300 (12 laps) along with the two-minute float test as part of their training at the Aquatic Center. During the first leg of the test, he kept reminding the students what to do and how many laps they had remaining. "You've got this!" he shouted. Erlacher understood the fear and nervousness the students had before the test but also recognized how vital it is to accomplish the task when lives are at stake. After everyone finished, he had them sit on the bleachers for an all-too-short break. "Back in the pool! Let's see how you do with the two-minute float!" Then, he reminded them that this was the last test and that they could pass it. Afterwards it was off to the wet room, where students do not have to worry about drying off but can still receive classroom instructions, saving valuable changing time.
Aug. 23, 2019: Once students got to the Aquatic Center, they all went right to the changing rooms. Erlacher had them meet him by the bleachers, told them too get into the pool, and to swim 12 laps—just as they had done two days before. However, today, they would also be doing the "brick test." This literal 10-pound brick is placed 7 feet down in the pool and must be retrieved. Doesn't seem hard, right? Wrong. Lifeguards have to swim to the brick and bring it up without using their arms. It requires them to be on their backs and swim backward. What if they fail? Try again. Students receive three retakes. Classmates were very encouraging and devoted to helping all pass. "Lifeguarding is super fun," noted Brisa Caceres, 10. "I love being in the water and being given the opportunity to be a certified as a lifeguard." Equally exciting is the opportunity to be among the first students to take advantage of this program at the new Aquatic Center.
Although the class will eventually end and a new semester begin, Erlacher reminds all that one's lifeguarding skills will last for a lifetime. "Lifeguarding class is a great opportunity for students to learn life saving skills," he stated. "Students will go on and get summer lifeguarding jobs next summer and in the future, but they can also receive school jobs right here at ECHS!"