Athlete of the Week: Cheerleader, Freshman Maddie Makowski
Madilyn Elisabeth Makowski, or Maddie as her friends call her, is a 14 year old, hardworking freshman who attends Elkhart Memorial, treats people with respect and shows kindness to her peers. She is also a cheerleader on the junior varsity EMHS cheer team.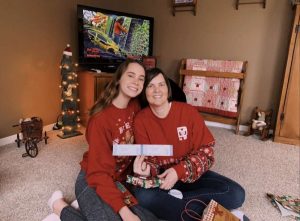 For Maddie, being a student athlete can be especially stressful at times.
"To deal with stress," Maddie said. "I listen to music and socialize with my friends. Cheer is fun, and I like to push my stress away there since it is a fun environment. Grades can be stressful, but I look at the big picture in the end which is my future."
But all the stress is worth it.
"The experience is fun," Maddie said. "Like any other activity, it can be stressful, but in the end cheer is fun. I loved cheering for the homecoming game back in October, and the Memorial versus Central basketball game. I have made so many friends at cheer and it makes my overall experience so much better." 
At around 5'10", Maddie's height makes her stand out, but she thinks there are just as many "pros" to being tall as there are "cons."
"The pros are that I can reach things on high shelves, run really well, walk fast, and find clothes kind of easily," Maddie said. "The cons [of being tall] are that I get made fun of (all jokes though), dress code is hard to follow, I can't wear heels without looking like a giraffe, and clothes are hard to shop for."
When it comes to cheerleading, though, her height is a perfect advantage, especially when it comes to stunting. As a spotter, it is Maddie's responsibility to make sure that flyers sustain zero injuries. This job requires both strength and height.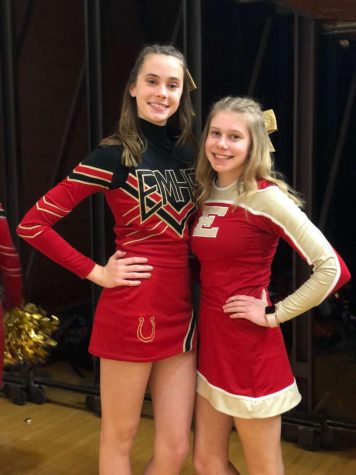 It is actually through cheerleading that she met a particularly special friend, Junior and fellow cheerleader, Megan Lane.
"I really love how humble she is," Lane said. "She is so talented in many ways. No matter who you are, she treats everyone with the same respect."
Before coming to Elkhart Memorial, Maddie attended Discovery Middle School which is in the Penn Harris Madison School district. Making the switch was her choice, and it was a positive one.
"Yes, I personally made the right choice and am happy with it. I made new friends and adapted to new experiences," Maddie said.  
Maddie especially appreciates the diversity of the people at Elkhart Memorial.
"Discovery had a lot of the same people, nothing new ever happened," Maddie said. "Memorial has many more people and different people who want different things for their future. At Discovery everyone was after the same thing."  
Maddie credits her Language Arts teacher Adam Homo and her Mom, guidance counselor, Allison Makowski, for helping her to transition so successfully.
"I look up to Mr. Homo," Maddie said. "He's a very good teacher. And my mom, of course. She guides me through life, she's literally in the building. But, it's different in school because I don't see her that often, and we are basically doing completely different things. At home I see her as just my mom and not in the educational setting."  
"She's fantastic, and has a great sense of humor," Homo said about Maddie. "She has an adult sense of humor which I find funny."
Maddie would especially like to thank freshmen Abi Presswood, Liz Siddons, Taylin O'Dell, Bella Scott, Junior Megan Lane for welcoming her to Elkhart Memorial.