Athlete of the Week- State Champion, Bryce Blondell
Junior Bryce Blondell is a two sport athlete, but he plays for two different schools. Blondell plays baseball on the Crimson Chargers baseball team and hockey for the Riley Wildcats.
As a three-year letterman for baseball, he is a center fielder and has verbally committed to play at Purdue Northwest.
Purdue Northwest expanded it's club program by adding men's ice hockey in the fall of 2019, and while Blondell isn't on the roster at this time, he has plans to check it out as a possibility. 
"I will be in contact with the baseball coach about the possibilities of playing both sports in my collegiate years," Blondell said.
Junior Dylan Rost and Blondell are close friends and teammates in baseball.
 "He always has a positive attitude and knows how to make me laugh," Rost said.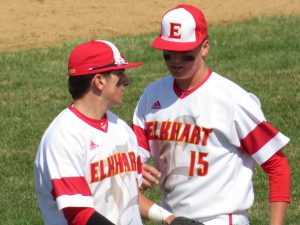 Along with being active in school, Blondell is a 2019 2A Hockey State Champion. 
This is Blondell's eleventh year playing hockey; he started when he was only five years old.
"Khris Kleva is the head hockey coach as Saint Joe," Blondell said. "His intensity and drive made him a role model for young athletes interested in hockey. He definitely inspired me to start playing hockey."
Because Memorial doesn't have enough hockey players to make a team, Blondell was given the opportunity to play for another school.
In order for this to happen, Blondell had to "go to a draft," which is a tryout for hockey players that don't have hockey at their school. The coaches then rank the players and put them on a team. 
"Saint Joe and Penn both had enough players for their team, so when I went to the draft, Riley High School picked me to be on their team," Blondell said.
Blondell's position is a defensive man.
"Hockey is very physical, mostly from adrenaline, so being big and fast is what makes me good at hockey," Blondell said.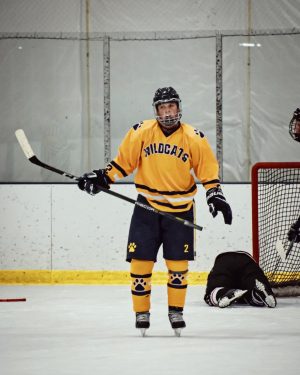 Blondell practices with his team on Mondays and Wednesdays and competes on the weekends out of town. 
During practices, "we skate, work on power plays, and condition," Blondell said.
"Winning the State Championship was surreal," Blondell said. "It doesn't happen a lot. It makes me want to play hard for the seniors because it's their last year." 
After the game, they had a celebration on the ice when they handed out the State Trophies and medals. 
"Many hugs and tears happened on the ice our last game, the upperclassmen especially." 
Along with Blondell's hockey success, he played football in his sophomore year and wants to play his Senior year for Elkhart High.