The cast list is out!
"You're a Good Man, Charlie Brown" premieres on Thursday, March 12
As soon as the clock hit noon on Friday, Jan. 17, the cast list went out for the spring musical entitled "You're a Good Man, Charlie Brown". The lead role of Charlie Brown went to junior Brock Weston.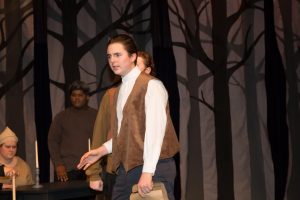 Weston was recently seen in Elkhart Memorial's production of "All Shook Up," "The Crucible," and the Elkhart Civic Theater's "Music Man". 
"Prepare to be amazed. We have one of the most talented casts I've ever worked with," Weston said. "There is no doubt in my mind that this will be an entertaining show. Our great group of directors are working tirelessly as well as our all star cast to bring you the best possible performance. This is our last musical as Elkhart Memorial High School. We intend to make it incredible."
Alongside the role of Charlie Brown is the role of Lucy Van Pelt, who exclusively went to senior Patsi Ward.
 "Despite always having a decent role for the shows," Ward said. "I've never had to worry much about having too many lines. However, since this show only has six characters, I have quite a few lines and a couple of monologues to memorize."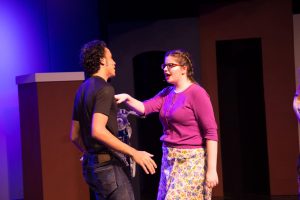 Ward starred as Little Red Riding Hood in Elkhart Memorial's production of  "Into the Woods"  and Ms. Sandra in "All Shook Up."
"You're a Good Man, Charlie Brown" is under the direction of  Leann Sullivan and Matt Manley.
"I am MOST excited about the choreography," Manley said. "I am the assistant director as well as the choreographer for the musical, and it has been so exciting to work on the choreography for this show. 'Charlie Brown' is a show that allows many possibilities for staging, and it has been exciting and fun to use my creativity to create unique choreography for the show that is fun to watch, as well as to do!"
"You're a Good Man, Charlie Brown" is essentially about the characters of the show "Peanuts", following an average day of Charlie Brown's life.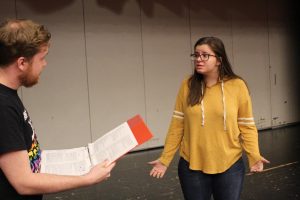 The musical continues to progress as it showcases the relationships that all the characters have with one another and the personalities of the characters themselves.
Aside from Charlie Brown and Lucy Van Pelt, the cast list also includes Sally Brown, Linus Van Pelt, Snoopy and Schroeder. These roles will be played by junior Lacy Witmer, senior Rayshon Smith, junior Xavier Barham and junior Elijah Lee. 
"You're a Good Man Charlie Brown" premieres at Elkhart Memorial on Thursday, March 12 at 7 p.m.  The show continues through the weekend with show times on Friday, March 13 at 7 p.m. and Sunday, March 15 at 2 p.m.
"People should look forward to creative storytelling of a known and loved cast of characters," Manley said. "It will be fun to see Charlie Brown and friends be brought to life on stage in such a charming and humorous way. I'm especially excited for the character of Lucy Brown (Charlie Brown's younger sister) played by the fabulous Lacy Witmer!"