Winter Sports Update
Sports editor, Caleb Webb, catches up with a senior representative from each of our winter sports.
With winter sports well on their way, it's time to check in with our seniors for a recap of how the season has gone so far. 
Boy's Basketball
With our boy's basketball team being at 7-6, their record does not account for the progress they have made thus far while facing some big name teams such as South Bend Adams, Valparaiso, and Northridge. With South Bend Adams being just this last Saturday, Jan. 11, the boys kept up with the Eagles until the last quarter where the 9th in state team took over the game. 
Senior Lashawn Whitener said, "We are definitely growing as a team, the further the season goes along, we just need to put everything together on the court."
Girl's Basketball
Holding a record of 5-13, our girl's basketball team hasn't exactly had the season they were planning for.
Senior Captain Mya Reeves elaborated on this, "Our season this year has been a roller coaster. We started off strong after winning our season opener and then we struggled. We all know what to do, it's just a matter of putting it into play on the court."
Boy's and Girl's Swimming
With our swim team having some struggles through this much of the season, both the girls and guys team are both staying optimistic about their team. 
"So far this season we are 0-9 with our next meet this Tuesday against South Bend Adams. We have grown a lot throughout the season. And if we swim how we have been lately, I have a strong feeling we can turn the season around for the better," said Senior Bryson Flores.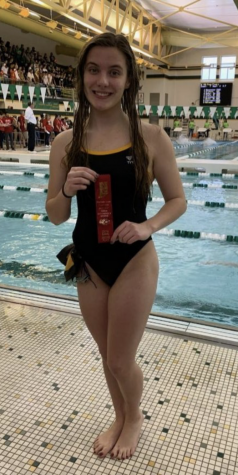 While Senior Brianna Kramer spoke about our girls team, "Our team lost a lot of our seasoned swimmers the last two years, and we're struggling to find a lot of swimmers because most attend Central since the schools are so close, especially with the merger happening so soon. Although we have some swimmers, most are relatively new to the sport, so there is a lot of supervision and teaching that has to be done, but in the future, we could grow more effective with experience. So far both boys have not won any meets and the girls have only won one; however, this past two weeks the girls lost 90-92 to Mishawaka HS. So that was a close meet, and genuinely disappointing for us."
On top of all that, the girls just recently finished their NLC meet this past Saturday Jan. 16. Then in two weeks sectionals begin. Where as for the boy's their NLC meet starts in two weeks.
Results from Girl's NLC: Rachel Terrell placed 4th overall in 100m backstroke & 2nd in the 100m butterfly, Brianna Kramer placed 13th in the 100m breaststroke & 14th in the 200m freestyle, and Elora Cline placed 16th in the 100m butterfly.
The 200m medley relay placed 7th,the 200m free relay placed 8th, and the 400m free relay placed 6th.
Wrestling 
While the wrestling team is on a losing streak, it doesn't mean that we don't have strong wrestlers. We just don't have enough wrestlers in the right weight classes. Senior Kamden Goering explains why the team hasn't won a match this year:
"The team has lost every match we've wrestled. We had two home meets this week with Plymouth this past Tuesday and then senior night. Then it's on to conference and state series. We haven't wrestled a team dual in awhile. We typically win more than half the matches even with pins which give the most points, but we still lose mainly because of forfeits,"  said Senior Kamden Goering.
In a Nutshell
The conclusion I have come to from watching various games throughout the season and from interviewing the senior athletes is that we are fighting an uphill battle, whether it be newer, inexperienced  players or not even having enough players to fill a roster, our  Chargers are working hard to stay confident and to overcome these disadvantages in order to really make this last season finish with a bang!