Charger wrestling falls to Central after forfeiting four matches
With the conclusion of the final Elkhart Memorial versus Elkhart Central wrestling meet on Tuesday, Dec. 17, Central was victorious 46-30 over the Chargers.
Senior wrestling captain Kamden Goering described the opportunity to wrestle in the match as "surreal knowing it was the last match, but once I was out there, it felt just like any other normal match."
But was this truly a show of either team's talent or ability?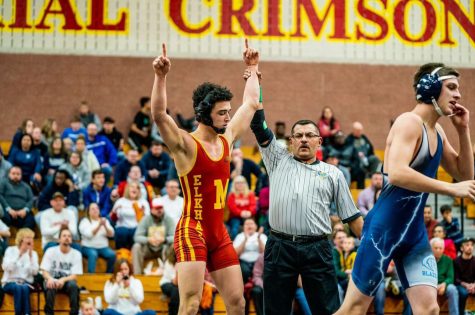 "In our case, it showed that even though we won more matches, we lost because we didn't have a full line-up. I think it showed our team had more individual talent," Goering said.
The Chargers had to forfeit four matches due to not having enough light weights on their roster, consisting of 106 lbs, 113 lbs, 120 lbs, and 126 lbs. This cost the team 24 points just from forfeits alone.
"The wrestling team is definitely smaller this year. And I know it's because it's not an easy sport to handle and we don't have much advertising for it," Goering said.
With the rough start for the Chargers forfeiting the first couple of matches and losing a couple after, finally Senior Marcus Nobles took out his competition in the 138 lb weight class for the first win for the Chargers Tuesday night. 
But the momentum didn't stop there:  Sophomore Kayden Shepherd also won his match in the 152 lb class, followed by Goering (160lbs), Junior Clayton Lundy (170lbs), and Senior Nathan Sabas (182lbs), putting the Chargers right back into things even after the deficit they were thrown into.
But in the end, it was not enough as the Chargers fell 46-30.
"I think our team lost because of inexperience as a whole, but that is something we can improve on. I'm really proud that everyone gave their all, that's something you can't teach," Goering said.