The Art Club gets a grant that takes them to the Windy City
With the Windy City on their mind, during their meeting on Thurs. Dec. 12, the Art Club was awarded an $800 grant by the Elkhart Education Foundation to fund their desire to travel to the famous Art Institute of Chicago.
They had been selling Elkhart Memorial commemorative scarves to fund their trip, but they really needed the grant to make their dream a reality.
"Taking this trip to the Art Institute of Chicago means a lot to me because I'm going to have a lifestyle that involves a lot of art and having the opportunity to go to a college and museum that involves that is just really inspirational," said junior Kaiden Burkhart-White. 
Kaiden has been taking art classes since the beginning of his sophomore year and has big plans to further his knowledge in art.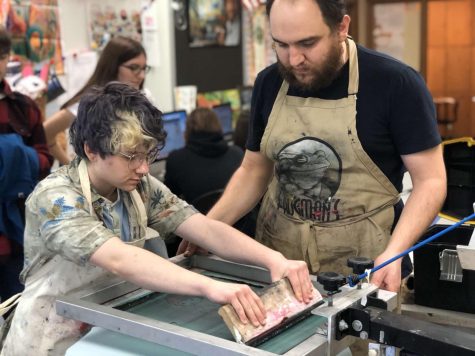 During class, the students were also treated to a surprise visit and silk screen printing demonstration by local artist, Bradley Davenport. Burkhart and other Art Club members got the opportunity to try silk screen printing and to sign and keep the shirts they made to wear on their Chicago trip.
"Being able to go means a lot because I have gone to Chicago before, but I have not been able to see the Art institute," sophomore Lauren Schulz said. "I know it will be a new experience. It will be interesting seeing other peoples different styles and most likely well-known art throughout the ages. It's just going to be a great experience." 
The students traveled to the Art Institute on Saturday, Dec.14.