Students give back by donating blood
Brianna Kramer, Contributing Author, Intro to Journalism Student
December 18, 2019
In a place where students usually go to exert great amounts of energy, on Tuesday, Nov. 26 students  utilized this space as a way to give back to their community by donating blood.
Every year, Elkhart Memorial High School hosts the American Red Cross and encourages students to sign up to donate blood. Memorial holds two annual blood drives, and a number of students show up to give their blood.
As a high school senior, Johnnie McCarey said that he was shocked just how many students cared enough to give their own blood. 
Giving blood takes about one hour.  There are also a few requirements that an individual must meet before they can donate blood. Those who want to donate must be at least 16 years of age, have a 12.5 iron level, and be free of any blood transmitted diseases. Also, their height, weight, and blood levels must coincide with each other to ensure that their body can handle having one to two pints of blood drawn.
"Many students, about 40 per drive, are turned down because they don't reach requirements. This is known as a deferral," Jeff Miller, supervisor of the drive, shared. 
Students who are deferred are often disappointed because they are anxious and ready to save lives.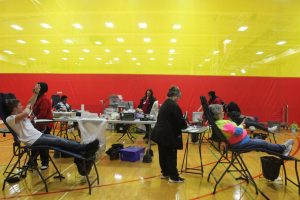 Ana Luna, a junior at Memorial, tried to give blood last year, but was deferred.
"I thought giving blood was so interesting and I really wanted to help people. I was ready to help so being turned away really disappointed me," Luna said as she checked in to try and donate. 
As student donors finished donating, they were encouraged to refuel by sipping on various juices and munching on cookies and crackers. As the students sat around the snack table, their body language displayed a release of their nerves as they talked with their peers about their personal experiences. Many of them laughed as they shared how nervous they were, and how they felt in that moment. 
Josh Dibley, a senior who had just finished donating had gone to early morning swim practice which started at 5 a.m. 
"I felt tired because of practice, and I was nervous about how I would feel during the process," Dibley said. Although Dibley seemed relaxed, his fatigue was not an overwhelming state that controlled his demeanor. "I ate some cookies and [drank] some juice, so I feel pretty good. I'm saving lives," Dibley said. 
It was common among donors to feel nervous about giving blood, but it was also a somber experience for most. Especially those who have experienced tragedy due to a family member or friend who was not able to receive blood. Senior Kailey Blazier, who worked the blood drive said that she had given blood before. 
"I intern at Elkhart General Hospital, so I have seen patients experience excessive blood loss first hand. It's really scary to watch," Blazier said.
Students are becoming more aware of the effects of their service, as one unit of blood can save up to three lives. 
Miller says that his goal as a supervisor is to "see one hundred or more units of blood go out, since that is about three hundred lives saved. It's awesome to see students giving back to our community," Miller said.