Winter guard team prepares for season with call-out meeting
As fall color guard season comes to an end, members are ready and excited for winter guard season. This competitive team is open to all students from 7-12 grade from West Side, Northside and Memorial.

This winter guard season promises a mixture of dance choreography, knowledge of the use of flags, and rifles and a great time.
Just like any other sport, winter guard is a competitive, but friendly environment. Students have to keep up on grades and prioritize on tasks outside of practice. Absences could result in role changes in the show or further consequences.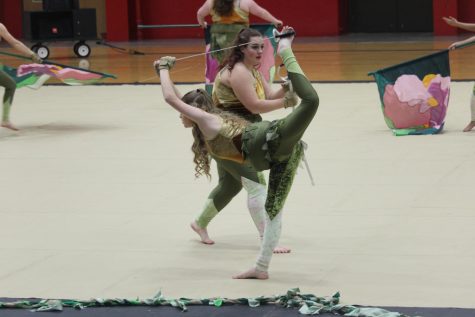 Weekly practices will occur in the new Memorial band room on Tuesday's from 3:30-5:50pm, Wednesdays and Thursdays from 6-9 p.m.,and Saturdays from 9-12 a.m.
Attire for practices include a solid black tank-top or shirt, solid black leggings or shorts (spandex needed under), and a sports bra. There are no dangly or distracting accessories on the floor and hair must be up in a ponytail or other alternative. 
Winter Guard fees are $300 and distributed between four different due dates. In order to participate in winter guard, members must make all payments. 
Each member is responsible for his/her own rifle, sabre, gloves, performance make-up, spandex, guard jacket, and food.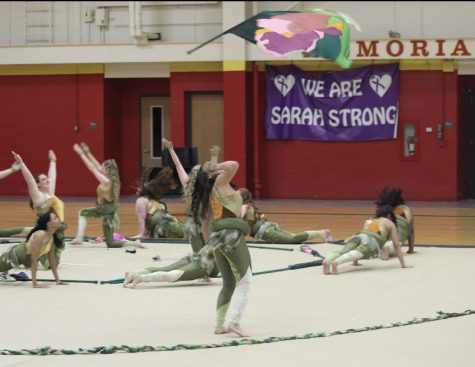 New winter guard jackets are available this season and must be purchased by participating performers. 
Parents are welcome to help with uniform and hair prep, and setting up and tearing down props and tarps. Guard director, Jen Buckholtz, said that parent involvement is vital to having a successful winter guard program and that it's a fun opportunity to see the behind-the-scenes action. 
Below is a list of competition dates:
| | |
| --- | --- |
| Friday, January 10 | Pre-Season Winter Guard Showcase; Goshen HS |
| Saturday, January 18 | Westfield HS competition (Indy) |
| Saturday, January 25 | Goshen HS Competition |
| Saturday, February 1 | Bishop Dwenger HS Competition (Fort Wayne) |
| Saturday, February 8 | Zionsville HS Competition (Indy) |
| Saturday, February 15 | Greenwood HS Competition (Indy) |
| Satuary, February 22 | Hamilton Southeastern HS Competition (Indy) |
| Saturday, February 29 | Carroll HS Competition (Fort Wayne) |
| Friday, March 6 | Winter Guard Showcase at Penn High School |
| Saturday, March 7 | Prelims (Indy) |
| Saturday March 14 | Semi-Finals (Indy) |
| Saturday, March 21 | State Finals at Center Grove HS (Indy) |
| TBA: March | Winter Guard Showcase at Elkhart Memorial Fieldhouse |
If you are interested in joining this winter guard season, you can email Jen Buckholtz, the Elkhart Memorial Guard Director, at [email protected] . You can also follow "EMHS Crimson Charger Command" on Facebook for fundraising information and winter guard updates.