We definitely stole the show
Staff writer and color guard member, Daniela Morales, details the Crimson Charger Command's trip to Semistate and the bittersweet feelings that came with missing State qualification by only two places.
Making it to Semistate was hard enough, making it to State was going to be even harder, but as a band we were determined to make it happen. 
Rehearsals went smooth, two full runs and a few fixes here and there, everything was going the way it was supposed to go.
This was perhaps our most important rehearsal alongside Regionals. We knew that this could possibly be our last rehearsal of the show if we didn't make it to State, so it was important that we made the best out of it. 
As rehearsals came to an end, it was nearly 30 degrees, so for it being that cold it was a great rehearsal.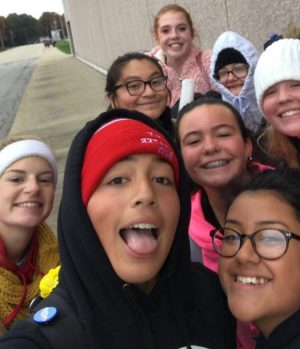 Now came the three hour bus ride to Pike High School in Indianapolis. Bus rides are fun don't get me wrong, but getting bus sick and anticipating a performance for three hours was nerve-wracking for some of us. For others though, bus rides can be really fun.
" Honestly, bus rides are probably my favorite part," band member Cecilia Macedo Perez said. "It's where everyone makes their own memories, inside jokes, and where most create different bonds with each other that make them family."
To top it off, a common occurrence that I've noticed is that during the most important competitions, something always goes wrong with the busses. This event was no different and included a few unexpected stops, including a middle of the highway pitstop to find a missing trombone that had fallen off the bus. 
Don't worry though! After a few minutes, everything seemed to be going well again. Arriving at Pike High School had finally set the nerves into place though. After a few chaotic moments changing into uniform and trying to locate multiple lost shoes, it was finally time to go to warm-up.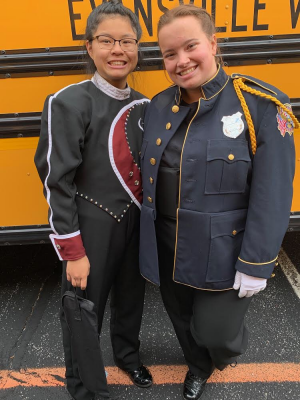 The wind and cold weather really did not help, but we all knew that we had to somehow push through even if it meant freezing. A few short run throughs later, it was time to start lining up to perform. 
"Good luck, good luck, good luck!" said all the bands while we were waiting to perform.
 As our performance time grew near, the cold weather really was not our concern anymore, rather making sure that we did our best was our main focus.
Setting up props and equipment as fast as we could, it was finally time to perform.
At least for me, our actual performance went by fast. Before I even knew it, we were already on the last part of the show. At the end of it all, some knew that it was the best run for them, others though knew that even if it wasn't their best they couldn't go back and do it all over again.
In order for some to stay on target and make sure that they have a good performance they create a list of goals for that day.
"Honestly, there's always these little things that I plan on accomplishing before each show and if I did it, it makes the rest of the show a good run," color guard member and junior Thalia Hernandez said. 
After the rush of adrenaline died down, the reality of the cold weather really seemed to sink in, but being the second to last band to perform, we had to hurry up and pack our equipment and instruments back into the buses before awards started. 
Hot Hands were our best friends at this point. Heading back to awards we could hear everyone talking about the performance, some saying it was great others saying it wasn't the best. Even then, it wasn't our choice if it was good or bad, but rather the judges. 
Out of the 20 bands that performed that day only 10 would qualify for  State. As the announcer said the Bands who made it, we could hear people cheering, excited that they would be advancing. With nine bands already having been announced, it was down to the last two bands that performed, Elkhart Memorial High School and Munster High School. It was either them or us. It was dead silent, while we waited patiently for the announcement.
In the end it wasn't us. Of course, it was disappointing, but even then we still had pizza and close peers to comfort us. 
"We couldn't feel our hands or even our toes, but that didn't stop us," Hernandez said. "even if we didn't make Sate, we still placed very well and left that field with a great performance we were all proud of."