Musician of the week: Junior Lacy Whitmer
Junior Lacy Whitmer discovered her love of music in the fifth grade.
 "At first I actually thought the notes were Spanish!" Whitmer recalls about learning to read music.
As a member of the most advanced choir at Elkhart Memorial, The Madrigals, Whitmer performs at the Madrigal Dinner, which is a Medieval-themed show. 
Her older brother and EMHS graduate, Logan Whitmer, is her inspiration.
"I would go and watch the high school perform The Magical Dinner when he was in it.  He inspired me to start [doing] Madrigals," said Whitmer.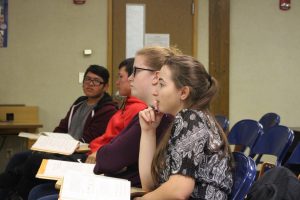 Whitmer also competes at the Indiana State School Music Association (ISSMA) competitions. Group and solo performers are judged and awarded based on their performance. During her most recent solo competition, she earned a perfect score for her performance of "American Lullaby."
"It's a sweet, slow song that also relates to me a lot," said Whitmer.
The hardest class she takes currently is AP Music Theory. She says that it is difficult, but that she loves the challenge. 
Along with singing her heart out, Whitmer loves being involved with theater. Their next play is called, "Almost Maine" which will be performed on Nov. 8 and 9 at 7:00 and Nov. 10 at 2:00.
 Lacy Whitmer is our GENESIS Musician of the Week. See her in action at "Almost Maine" this weekend. Tickets are $5  for students and $8 for adults.