Road to Repeat: Regionals
The Elkhart Memorial Unified Track team snags another win on their way to claiming another state title
After a record breaking performance at the Central Noble Sectional, the Elkhart Memorial Unified Track team was looking to impress even more at Kokomo High School for Regionals.
Against bigger and better competition, the Chargers had to step-up their game if they wanted to keep their hopes of another state title alive.
They stepped up big time.
With six total personal bests recorded on the day, the Chargers knew what they had to do to compete.
After complications in the first heat of long jump–a first place finish by senior Logan Mullins and a disappointing last place finish by senior teammate Brian Ketchum–the Elkhart Memorial squad wasn't sitting too pretty. But when junior Viviana Ponce-Acevedo jumped a personal best of 13 feet and 6 inches, she earned back six of the seven points lost in the first heat.
"It's pretty awesome to see kids who know they need to step-up do it," said Coach Todd Sheely. "The support from their teammates gives them the extra confidence they need to be successful."
On the other side of the field, the shot put crew was doing their thing too.
Freshman Phillip Lightner came out throwing a 44 foot 8 inch shot, placing him in first place yet again. Lightner followed closely behind with a second place finish by Joshua Ibey of Fishers High School, and a third place finish by teammate Isiah Johnson, with a throw of 41'09.5".
The second heat of shot put also earned the Chargers some valuable points as junior Esvin Herrera threw a personal best of 35'10" after being seeded last in his heat. Herrera's throw gained the team an additional four points.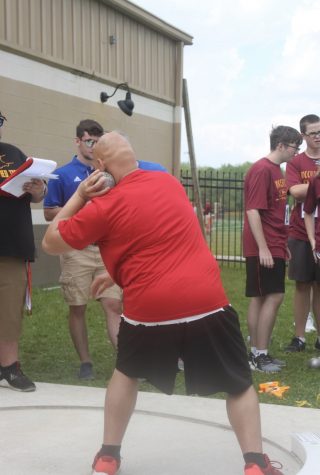 Senior Juju Williams decided he wanted to get in on the action too. After just recently figuring out he threw left handed instead of right, Williams had been throwing about five feet farther than his 18 foot average all season.
But Saturday something must've gotten into his left arm when he picked up that shot put; that something was two new video games for JuJu, but only if he could win first place in his heat. That's exactly what he did, with a personal best throw of 26 feet and 11.5 inches.
"Regionals was fun," said Williams. "It was fun winning and being with all my friends."
Before all the field events were concluded, the teams were joined by a small rain storm that came to watch the competition. After about a two hour rain delay, all field events were completed, and the Chargers were sitting pretty high on the leaderboards, but they still were not anywhere near comfortable.
The teams moved onto the running events, where the Chargers really had to compete if the wanted to bring home some hardware.
Brian Ketchum got the ball rolling with a personal best time of 12.04 seconds and a third place finish in the first heat of the 100 meter dash. Ketchum earned an additional two extra points after he was originally seeded to tie for fifth.
Then, freshman Jalen Bynum really stepped up, finishing in second place of the second heat, earning the Chargers eight points instead of the two he was originally seeded to get.
Senior Bre Nalls hopped in on the action as she took first place in the fourth heat, earning 10 points.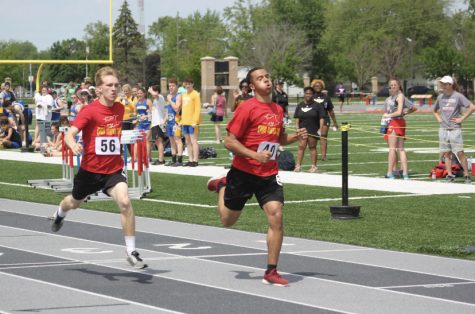 Moving onto the 400 meter race, Isiah Johnson and senior John Rehmels kept things rolling with first and second place finishes in the second heat earning 18 points in just that race.
With two races left of the meet, the girls and boys relay, the Chargers knew they had pulled away from the pack, along with the Valparaiso Vikings right beside them.
With a second place finish by the girls relay, and a third place finish by the boys, just about every soul at Kokomo High School knew it was going to be close.
As all the teams gathered on the field for a group picture, they were anxious to hear the results.
Teams began to disperse and the announcer started to read the results.
"In 12th place…Warren Central, in 11th…Homestead, in 10th place…Kokomo, coming in at ninth is…Lawrence North High school, and tied for seventh place…West Lafayette and Merrillville High School."
A slight pause occured as the top six teams let out a sigh of relief, knowing they would be moving onto state.
"In sixth place…with 88 points… McCutcheon High School, and in fifth place…with 90 points…Carroll of Fort Wayne."
The announcer took a deep breath and continued on…
"In fourth place…with 98 points…Penn High School, and in third place… with 99 points… Fishers!"
This was it, both teams knew it was the two of them at the top: Valparaiso and Elkhart Memorial. First and second, second and first. Both stood on the football field waiting nervously for the announcer to continue on.
He cleared his throat and spoke into the mic: "In second place… with a total of 118 team points…" he paused. "VALPO!"
Valpo erupted with excitement, as did the Chargers. Behind all the yelling and cheering of ecstatic fans and competitors, the voice of the announcer could be heard saying:
"And your 2019 Regional Champions, with 124 points, the Elkhart Memorial Chargersssssss!"
The team ran to the track, as an IHSSA official was waiting, holding the team's 'REGIONAL CHAMPION' name plate.
The Chargers cheered with pure enjoyment, knowing they were one step closer to bringing home that state trophy.
The Chargers will compete in Bloomington Saturday, June 1. The meet starts at 11:30.
"I think if we put the team first, then we have already won. One meet does not define our season," Sheely said. "But winning that title would just be the cherry on top."