The rise of a new era: eSports
eSports popularity continues to grow. Here's how you can join Elkhart's team, the Elkhart High Elite.
The rise in popularity of eSports recently reached that of a billion dollar industry that is rapidly growing. The way in which the eSports community is treated has evolved into one that is much like a professional sport; even at the spectator level, events are filled and tickets are sold out.
For example, last year, over 106 million viewers watched the League of Legends World Championship, a popular eSports game. By comparison, the NBA Finals had 24 million viewers. More than four times the amount of people were watching an eSport rather than the NBA Finals.
This is also something that has hit close to home in a wave. Just this last year, Elkhart Community Schools added an eSports team, Elkhart High Elite, to the many opportunities that they offer to students in the district with the intention of treating the team just like any other athletic team, rather than as a club.
During a callout meeting in which  GENESIS' Opinion Editor Kailey Blazier attended, Coach Robinson said, "I am not here just to see you guys play video games or just to have a a good time…I am here to get you out of Elkhart."
That is a promise that Robinson has gone above and beyond to uphold this year. Two students from Elkhart Central High School, Seniors Robert Izbicki and Kevin Wu, were the first to sign a letter of intent to Northwood University. This college in Michigan will be adding eSports to their list of Division II sports in the fall of 2019 which means Izbicki and Wu will be on the first eSports team of their college.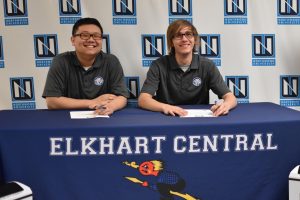 Not every college around the nation offers this type of sport, but that is subject to change. Soon, no college will be able to resist this 900 million dollar industry. Within the last year there were 80+ college eSports teams all competing in conferences such as the National Association of Collegiate Esports (NACE) and Texas e-Sports Association (TESPA).
Who wouldn't want to play videos games for money, especially if you play them for fun anyways? As well as being surrounded by others who also have a love for the game, eSports helps create bonds and relationships that otherwise wouldn't be as easy to make. Then on top of that players have the potential to use eSports to aid in their pursuit of higher education, with the possibility of receiving a scholarship from them.
Elkhart High Elite offers games all the way from League of Legends and Rocket League to even Fortnite, Counter Strike, and Overwatch to fit all different types of gamers.
Elkhart High Elite is a year round team that meets and practices weekly, so if you want to join, the team will be more than happy to check you out. Especially with the normal high school life being very hectic, any extracurriculars you are involved in can be worked around with the flexible schedule the team has.
And once again, If you have questions, email Coach Robinson at [email protected]. The possibilities are endless.
Check out Elkhart High Elite's website here.