Varsity baseball charges into sectionals
With the Elkhart Memorial Varsity Baseball team at a 11-14 record through much of this 2019 season, plus or minus a few. The Chargers are staying optimistic, while also being fourth of eight and 6-8 in their NLC Conference.
The first round of the season creates a baseline for how the rest of the season is directed to go, and for the Chargers, with lots of young talent in the process of maturing, the Chargers could be thought of as a ticking time bomb with the starting line up typically consisting of four to five sophomores, at positions all around the field, and only four returning seniors.
"I believe being labeled as underdogs is just motivation for us," said Chargers starting shortstop sophomore Dylan Rost. "We want to be respected as a team throughout our area and state. It makes us that much hungrier for every opportunity we have to prove ourselves…all we can control is how we compete each day."
Because most teams they face have no idea what to expect from them, the Chargers always have a slight upper hand. Some of the best baseball the guys played this season was when they took down two teams who were the number one position holders in the NLC Conference: Northwood and Plymouth.
"My favorite experience this year so far is going to Northwood and beating them," said Rost. "to me this win was huge for our team as far as confidence and knowing that we can compete and beat any team we play."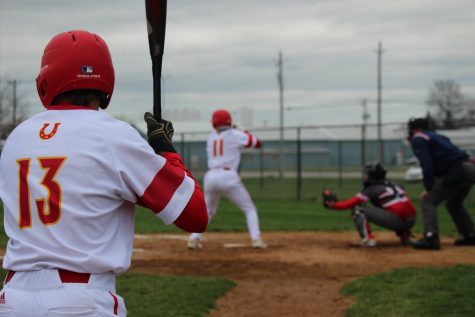 "…our win at Northwood shines bright in my memory," senior Caden Ewen said. "I don't ever remember beating them while I've been on varsity."
Even though was a highlight of the season, the team is not satisfied and  they are hungry for more. With the last week of the regular season coming to an end, and sectionals right around the corner, the Chargers need to unleash their true potential before the post-season tournament.
Every year, Coach Rost asks the team to brainstorm and come up with a few words that they believe describes the core of their season.
This year the team decided on the words "Accountability and GRIT." For the team, the word "accountability" emphasizes that everyone is accountable for their actions and responsibilities while the word "GRIT" inspires all members of the team to be mentally and physically resilient.
"Our team always has each other's back which is so important," Rost said. "especially in baseball. Staying positive and encouraging each other goes a long way. Our game can change for the better in just one inning if we continue to compete together."
With a team environment like such, each individual has less stress to be perfect. Even though they  want to make every play possible, if they do mess up, each team member can feel confident that their teammates have their back.
Ewen stated that the team's most prominent strength would have to be "that we are extremely resilient."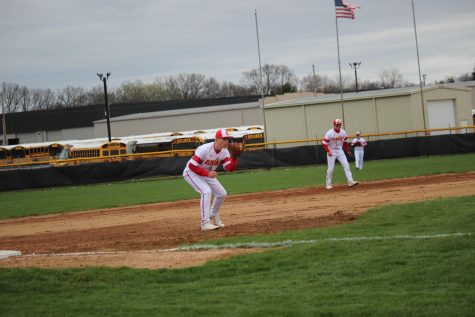 While Rost said their strengths consisted of "… we don't care who we are playing, we just play our game."
But he also addressed something that he called an "inconsistency in energy." If the Chargers play with the highest amount of energy possible, and play to their capabilities, they will rise to  high expectations.
There is almost no one they can not compete with and even overcome when they play.
Just like Rost said, all they have to do is just play "our game."