Athlete of the Week: Callan Kubiak
Second year varsity tennis player, sophomore Callan Kubiak gives GENESIS the scoop on her tennis season thus far.
G: "How long have you been playing tennis for?"
C: "I've been playing tennis for about three years now. I started playing because I wanted to try something new and something different, then I really liked it and stuck with it."
G: "Who inspires you the most?"
C: "My parents inspire me the most. They're always supportive and love watching me play and learning about tennis. It makes me want to do well in tennis to make them proud."
G: "What's your favorite part of playing tennis?"
C: "My favorite aspect of playing is winning a long, hard point in a game that was a point to fight for."
G: "Describe the feeling of winning a match."
C: "The feeling of winning a match is great. I feel accomplished and proud, and it's a great feeling walking off the court after playing a good match. I feel like it's always teaching me something."
G: "What do you do in the off-season to train?"
C: "During off-season I try to get tournaments in for extra practice, and in addition to that, I practice during the summer and the winter so I can be better prepared for the next upcoming season."
G: "Do you plan to play tennis in college?"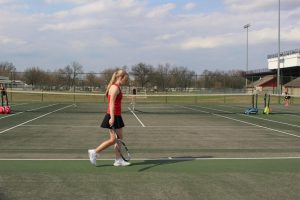 C: "Yes, I plan to play tennis in college."
G: "Have you received any awards or recognition?"
C: "Yes, last season I lettered as a freshman and I was recognized for that. I have gotten awards at tournaments also."
G: "Describe the bond of the EMHS tennis team."
C: "The bond the team has is great. We're always supporting each other's matches, win or lose, and we can always laugh and have good times together. Playing the same sport and constantly being around the same people creates great friendships."
G: "Do you have a pre-match ritual?"
C: "Before a match, I usually make sure I'm hydrated and have had some food. I also warm-up and try to prepare my mental game before I even go out on the court, listening to music and staying calm before a big match helps too."
G: "Describe your bond with your coaches."
C: "The bond with my coaches is great. They're always supportive and give good advice. They want me to succeed and do well just as much as I do and that helps. They know how I play and they can say things during a match or in practice that helps me do better."
G: "What does EMHS Tennis mean to you?"
C: "EMHS tennis means a lot. It's been nothing but a great experience. My teammates are great and so are the coaches. Being able to play tennis here and be successful is a great opportunity and I look forward to every season!!"
About the Contributor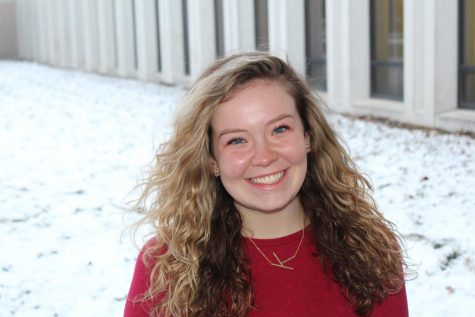 Kaitlin Presswood, Staff Writer
Hi, I'm Kaitlin Presswood, (most people call me Kait) and I'm a first year staff writer with GENESIS!  I keep myself pretty busy being an editor for...