Todd's Burrito: Did you know that Mr. Efsits has a burrito named after him?
As I stroll down the streets of Downtown Elkhart minding my own business, I hear a familiar voice to my left and believe it or not, it was the one and only, Mr. Todd Efsits.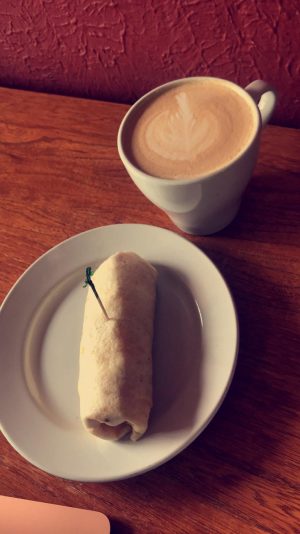 Ironically, we were going to the same place: The Electric Brew. After being a student in his Creative Writing and Journalism courses, I caught on to the fact that he is a fan of the Electric Brew because he consistently had one of their cardboard cups in his right hand. So maybe seeing him walk into the shop at the same time wasn't so ironic.
We stand in line together, chit-chatting about how he is only there to get a refill, and I ask for some advice on what kind of coffee I should order since he refers to the shop as his "second home." That being said, not only is it his "second home," but he has his very own burrito named after him!
This burrito goes by "Todd's Burrito" on the menu and consists of sausage, spinach, eggs, and swiss cheese.
Although the Electric Brew is closed on Sundays, it is open every other day of the week 6:30 a.m.- 8p.m. Monday-Thursday and 6:30 a.m.- 9 p.m. Fridays and Saturdays.
If you ever get the chance, be sure to try this appetizing burrito named after our very own Todd Efsits, I did, and it was delicious!