Senior Kallie Canfield dominates once again
Cadet Kallie Canfield is awarded female MVP for her perfect score performance at Terre Haute Raider competition
This isn't the first time that senior Kallie Canfield has made Elkhart Memorial proud–just this past fall we sent her off to the State wrestling competition, and this past weekend our Charger pride became even stronger when Canfield and her JROTC teammates traveled to Terre Haute for a Raider competition.
Canfield went into the competition knowing that she wanted to be named as the best. With 25 girls competing for the top spot, she knew her goal was going to take everything she had in her, but she was up for the challenge.
"I knew they had a PFT award for top female performance," Canfield said. "and I'm very competitive, so I set my goals for each event and pushed until I reached it."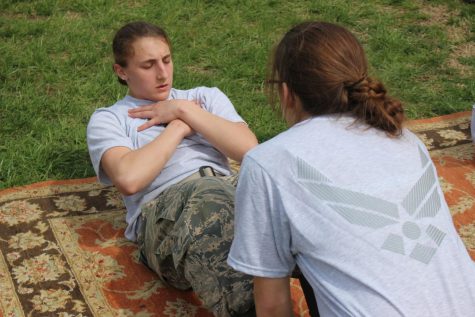 Canfield competed in three tests for the Personal Fitness Test (PFT): push-ups, sit-ups, and a 1 ½ mile run.
In one minute, Canfield completed an impressive 55 push-ups and 79 sit-ups. She also placed first in the 1 1/2 mile run with a time of 10:14, earning 300 points–the maximum number possible.
"
"It's true what they say, 'hard work pays off'.""
— senior Kallie Canfield
When they announced the award for the girl's PFT MVP, Canfield was named as the recipient and the Charger pride was evident.
"I was really excited, and I could hear my team cheering, and it made me even more proud of myself," Canfield said. "I worked hard for the award, so hearing my name along with cheers just made everything seem like it paid off."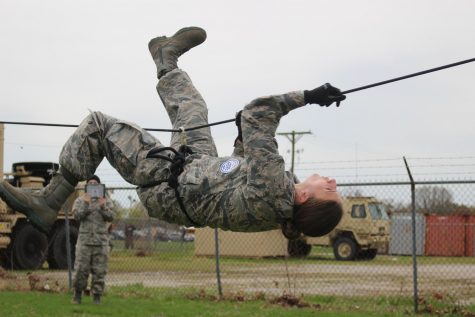 Canfield not only earned the title of MVP, but she also helped her teammates by competing in additional events which resulted in a third place team overall finish out of 13 teams. 
"I'd like to thank Major Dorman. He's been like a role model to me, along with Sergeant Rutledge," Canfield said. "they both keep me on track and 'hyped up' for everything I do."