Beloved physical education teacher Janie Boyden named GENESIS April Teacher of the Month
Janie Boyden has been a physical education teacher at Elkhart Memorial for 32 years. In addition to her position as a physical education teacher, Boyden sponsors Sigma Beta Upsilon (SBU), a club in which sisters and brothers from any type of background can come together to learn more about unity.
Boyden began her interest in teaching very early in life.
"I used to take dance classes when I was younger," Boyden said. "After I got home, I would go and teach the kids in my neighborhood what I learned."
Teaching was something that came easily to Boyden. She felt as though she was destined to be a teacher from birth.
"It is just who I am," Boyden said. "It is something in my family. I have a family of teachers and educators."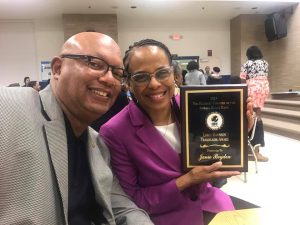 In February, Boyden was awarded with the Leroy Robinson Trailblazer Award. This award commends her for the passion and effort that she has put into making both Elkhart Community Schools and the community a better place.
Her work with SBU is most prominently seen throughout Elkhart Memorial.
As one of the most active clubs in school, SBU holds a number of events throughout the school year: during the month of October, they educate students and staff members about breast cancer and early detection; during the month of November they run a food drive for a local food pantry and they shop for families in need and deliver Thanksgiving dinners to their home; during the month of December they visit a local nursing home and sing Christmas carols; and during the month of February, they sponsor the annual oratory competition.
"Ms. Boyden Makes SBU better for me because of her dedication," senior Breanna Nalls said. "It's one thing that means a lot to her because of the history and events we take part in. The energy and dedication us students are willing to put into SBU inspires her to continue with the club and invest in so much more activity."
Not only is Boyden the sponsor of SBU, but over the years, she has been involved in a number of other student activities including coaching track, teaching dance, and helping to plan Class Olympics, just to name a few.
She also promotes a healthy lifestyle among the staff of Elkhart Memorial by serving as a "Best Life" coach. In this position, she coordinates activities and events to keep teachers and staff living healthy and active lifestyles.
In 2008 she was also recognized as the Elkhart Memorial Teacher of the Year.
"Teachers are just born," Boyden said. "You don't decide you want to teach because you have summer vacations and holidays off."