Todd Sheely – More than a teacher
After Elkhart Memorial's Todd Sheely won Teacher of the Year, we took a deeper look into what shaped Sheely into the deserving man he is today.
Friday morning was a special one here in Charger country; special for social studies teacher Todd Sheely in particular, as he was named Memorial's teacher of the year.
Sheely hasn't always been an Elkhart guy though, as he spent most of his life further south in Indiana.
Life Before Memorial
Sheely was born in Greenwood, Indiana in 1979. Growing up in the same area, he attended Center Grove High School. In 1997, Sheely graduated high school with an academic honors diploma, and was added to the school's "Wall of Fame" for being named Indiana All-State for soccer.
Continuing his success in soccer from high school to college, Sheely attended Indiana University – Purdue University Indianapolis on a soccer scholarship. He was also a member of the 2000 men's team that won the Mid-Continent Conference Tournament and an NCAA play-in game against Marist in triple overtime to secure a spot in that year's NCAA tournament. This would lead to the transition from Division II to Division I and the induction into IUPUI Athletic Hall of Fame in 2017.
Once his collegiate career came to an end, Sheely did not slow down; he accepted a teaching job right at home at Center Grove High School. He would teach for 14 years and serve as the girls head soccer coach  for 10 years, the boys head soccer coach for two years, and an assistant track coach for four years. In 2007, Sheely was honored with the Indiana Girls State Soccer Coach of the Year award. Two years later, he was named the Center Grove Teacher of the Year and had his work on mock elections published in  "Cable in the Classroom."
Coming to Memorial
After making his mark on Greenwood, Sheely traveled roughly 200 miles north to Elkhart Memorial High School where he is in his third year teaching freshman geography.
"Mr. Sheely is a very tough but devoted teacher who always makes sure his students succeed educationally," said freshman Tori Siddons. "He always makes sure every one of his students understands what he is teaching so no one is ever confused. He doesn't treat us like any other students. He gets to know us on a personal level, which I think every teacher should do in order to have a good learning environment. He is very deserving of this award because he's not just a great teacher but also a great coach who loves his students."
Sheely is already making his name known outside of the classroom. He is the head coach of the reigning state champion Unified Track Team at Elkhart Memorial, as well as the head coach of the boys soccer team and an assistant swim coach.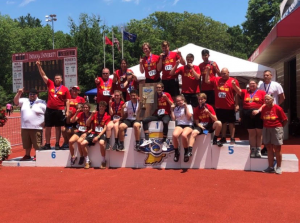 "He genuinely cares about more than just winning. He focuses on the morals of being a team and working together to just have fun. He is different from other coaches," said senior John Rehmels, who has been a member of Sheely's' Unified Track team since it began in 2017.
Earlier this month, Sheely was recognized as the "Outstanding Advocate of the Year" at the 8th annual Focus on Inclusion Conference in Indianapolis.
In his 15 years as a head soccer coach, Sheely has won 11 sectionals, 10 regionals, and also made it to seven Elite Eights and two Final Fours. His current record stands 191 wins, 84 losses, and 27 ties.
"Obviously, he's a great coach and all, but it's more than that," said senior soccer player Caleb Ashworth. "He's a leader, and he's a role model that his athletes can look at and set themselves accordingly. He knows where we have been because he's been in the same situation, so he knows how to get through to us. That's what sets him apart from everyone else."
But it's not just sports and teaching for Coach Sheely; he also serves as a Tech Ambassador for teachers, a member of the Human Services design team for the upcoming merger, an Elkhart Teachers Association building representative, and as a Geography and History of the World PLC Coordinator. On top of all of this, he is a pollster for Indiana Soccer Coaches Association, an all state voter, and the Director for the Indiana Soccer Olympic Development Program.  
Before and After School
The journey hasn't always been easy for Sheely, though. When he was 18, his father passed away from heart failure.
"It was really difficult," said Sheely. "I can recall driving home from my new apartment downtown that we had just moved into that weekend. I got to the corner of Bluff Road and Southport Road and it was weird; like I knew something was wrong. I got home and my dad was taken to the hospital. He died a little bit later. In college I played soccer with a flower from his funeral taped to the inside of my shin guard. And to this day, I look up at the skies during the last part of the National Anthem and blow him a kiss before every single game."
Today, Sheely is a father of two children who he adores. His sons, Mayson (11) and Brennan (9), both attend Concord Community Schools and are just as physically active as dad was himself. Mayson competes in soccer and basketball, while also playing the baritone, and Brennan likes to play basketball and baseball.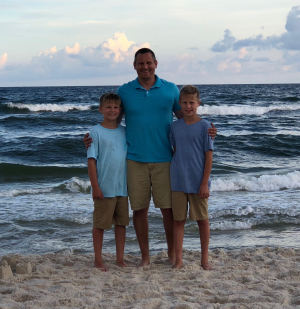 The awards and accomplishments are all great for Sheely, but his family and friends are what mean the most to him.
"Being around everyone and building relationships with fellow teachers and my students is what I love about being a teacher," said Sheely. "All the awards and accolades are appreciated and very humbling. It's like icing on the cake."
As a current athlete under Todd Sheely, and someone who sees him on a daily basis, in and out of the classroom, I cannot think of anyone more deserving of the credit. I would like to formally congratulate him on being the best coach, and now (officially) the best teacher.