Brain Drain
ACP U.S. History, Finite Math and ACP Speech among the most challenging classes at Elkhart Memorial
With the year quickly coming to an end, students are starting to stress about their classes and the impending doom of final exams which account for 15% of their semester grade. 
Students in ACP U.S. History, Finite Math, and ACP Speech are definitely feeling the drain as these classes are widely known among students as the most challenging courses at Memorial.
"ACP U.S. History is one of my hardest classes," Junior De'Airah Long said.
The class is taught by veteran teacher Stefanie Foster and is a dual credit course offered at Elkhart Memorial by Indiana University. With this college level challenge, students are motivated to do their very best so that they don't ruin their college GPA.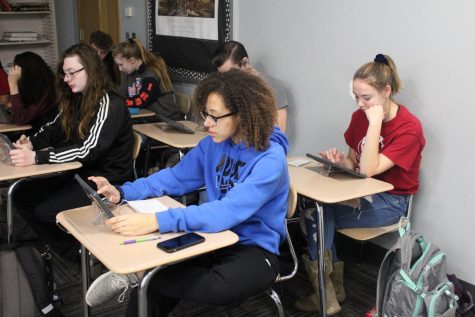 "We take a lot of quizzes with around 45 terms," Long said.
Junior Andrew Schultz, who also takes ACP U.S. History, said, "I really like how Mrs. Foster teaches the class. She's one of the better teachers at this school."
Long and Schultz also agree that if students are planning to take this class they should study for their quizzes and keep up with the weekly readings.
While ACP History is taking place downstairs, another challenging course is offered upstairs: Finite Math taught by Kathleen Bain.
Senior Emmanuel Alvarez takes the class among 19 other students.
"The most difficult thing about the entire course is definitely the book. It is very complex and weirdly worded, but when you ask Mrs. Bain about it, it becomes easier because she explains it in simpler terms," Alvarez said.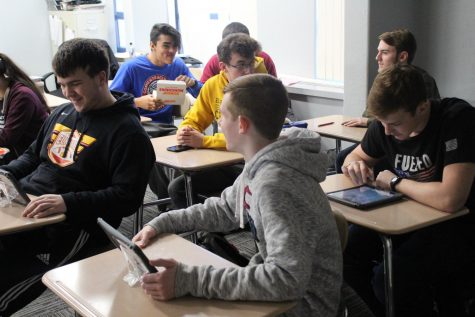 Like ACP U.S. History, Finite is a dual credit course offered through Indiana University.
"I would recommend this class to those who look to further their math education and want to go outside of the norm and who knows it might pay off in college," said Alvarez.
ACP speech, taught by Eileen Misener, is another Indiana University course that is offered at Elkhart Memorial.
Speech is a class that is required by most undergraduate degrees, so it is also a popular course for students to get out of the way in high school. For some, the environment can be less intimidating because they are more familiar with the people in the room than they would be on a brand new college campus during their freshman or sophomore year.
Senior Paeton Mathes takes this class and it is one of her most difficult classes.
"Making sure your speeches are accomplishing what they are supposed to and getting your point across in the time frame can be difficult," Mathes said.  
While these courses are challenging, all those who were interview agreed on two things: having a good teacher is key to succeeding in a challenging course and they are feeling the drain.