26 students awarded with first ever academic letter
Gone are the days of varsity letters only being awarded to athletes and music students. Now, thanks to teacher and club sponsor Julie Tyrakowski, students who show exceptional academic ability are also awarded.
On Wed., February 13 students and parents gathered in C-Hall near the newly renovated art hub to enjoy refreshments and to celebrate the accomplishments of some of our brightest students.
Under the guidance of Tyrakowski, this is the first time EMHS has awarded an academic letter, and it truly is an honor when a student meets the requirements.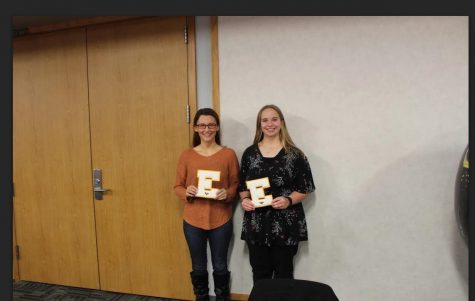 "It felt pretty special honestly," said award recipient senior Brian Ketchum. "Especially knowing only 26 people were awarded with a letter out of the 80 that applied."
During the banquet, students were called up one-by-one to be awarded with their letter, as well as get a handshake from Principal Cary Anderson.
The night consisted of lighthearted speeches from Principal Cary Anderson and Student Activities Director Jeff Miller. Their speeches brought laughter from the audience.
In order to be awarded with an academic letter, students must go through an application process that includes a point system. Applications must rack up a minimum of 800 points. The points are gained through three categories: GPA, standardized test scores (SAT, ASVAB, or ACT), and participation in academic competitions. 
"If people want to earn this letter," award recipient junior Morgan Kast said, "they should compete in any academic event that they are interested in. Also, they should stay on top of their academics even when it feels like they just want to give up."