Students Lift Up Their Voices In Oratory Contest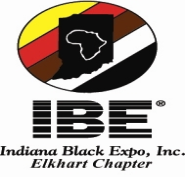 Speak up! Anyone know what's going on this Thursday?
The SBU–a.k.a. Sisters and Brothers United (another name is Sigma Beta Upsilon)–will be holding an Oratory Contest and commemorating Black History Month. And, as Mrs. Janie Boyden, sponsor of SBU, always says, "SBU is not associated to any sorority or fraternity!" In fact, it's an organization where students can have a voice within the school and community. 
Sharing their voices is exactly what they plan to do on Feb. 23 at 7 p.m. in the Little Theater. The 26th Annual African-American History & Current Issues Oratory Contest, sponsored by Elkhart Chapter of Black Expo, will also be assisted by the EHS Speech team, the coaches being Mrs. Janis Elli and Mrs. Kris Bartley. Among those who will be competing are sophomore Aalaiceah Williams; juniors Daviana Winfield and Cymantha Jones; and senior Darrien Garrett. They will be competing in this order, answering the question: "How could I use my voice to promote equal opportunity and/or equitable culture within my school, city, or nation?" 
This program also consists of other performances, such as Ms. JeNeva Adams, Freshman Division Principal and former SBU member, singing Lift Every Voice and Sing, while being accompanied by Mr. David Brennan, Assistant Choir Director. An equally intriguing performance will be the poem/song Phenomenal Woman by Maya Angelou translated through ASL by Ms. Larissa Lomeli's students, including senior Ashlyn Anderson, as well as juniors DeNeaja Jackson and Amari Toliver. Soloist Chyniah Woods, a senior, will take the stage with the song Lift Me Up by Rihanna. Last, but not least, there will be a performance from third and eighth period Dance and Movement class to The Things We Do by Yolanda Adams. This performance has been artistically choreographed by Mrs. Boyden and her student choreographer, Daviana Winfield. 
Many moving speeches and poems will be presented throughout the contest. Judges will be staff members Tricia Antonio, Denicka Foster, Erin Hartman, Alex Holtz, and  Daniel Weddington. Prizes will be awarded to the winners. Although contestants will arrive at 6:30 p.m. to prepare, audience members are expected to be seated for a 7 p.m. start. Refreshments will, most definitely, be provided after the contest, which makes the $3 admission fee quite a bargain for an evening filled with so much entertainment.