Catering From The Heart
A special group of students cater everything from their customers' lunches…to their hearts.
In such a big school, many amazing activities and events take place. One special activity students in the special education classrooms have taken on is running a student-based business where they deliver coffee to teachers–better known as The Kindness Cafe. However, a new addition has been added: Catering From The Heart, where these students now deliver lunches to teachers. All these activities fall under one umbrella: The Kindness Enterprises. Special Education teacher Ms. Katie Hertsel speaks on why The Kindness Enterprise is just so important and what it brings for the children. "This business not only gives our students job skills and valuable experience, but funds community-based outings and instruction [such as shopping for ingredients to then cook various recipes back at school, going out to eat, purchasing special supplies for projects, restocking for our businesses, field trips]."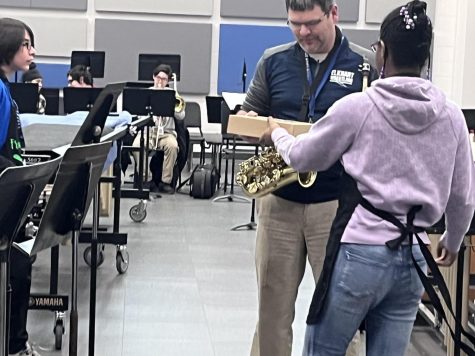 Once a month on Fridays, teachers are able to go to a google form sent out earlier to everyone and request items from the sandwiches and salads available. Later, teachers in charge send out the orders to the local business, Catering From The Heart. Food is brought to the school and a new pair of students each time go out and hand deliver the meal to those who ordered. A partnership between a small group in the school and a local business keeps the community running and leaning on one another. Adding to the professionalism of this, Mr. Thomas Dosmann spearheaded a project through the Business School of Study to provide delivery aprons to these hard-working entrepreneurs.  Those who do outstanding work, he noted, should stand out in a visual way, as well.
This opportunity is more than just giving teachers a meal to eat, but also is a three-way trade between teachers, students, and the community. "Elkhart's mission statement is to make students college-and-career ready, and we really take that to heart in the intense interventions program at Elkhart High School. We need to help our students be prepared to participate in the real world, as many of them can and should be active, contributing members to our society," states Hertsel. 
Being able to focus on a smaller group in the school, rather than just the whole, makes sure that everyone is recognized from the work they do. The Elkhart High School special education program surely deserves the recognition of running essentially a mini business within the school.  Hertsel adds, "Delivering lunches is simply a nice addition to the great things our kiddos already do throughout the building. It does allow us to connect to a local business, which in my eyes, is just a gateway to greater opportunities in the future."
Don't forget to fill out the google form for a hand delivered lunch.