Giving Back During A Season Of Receiving
As the final quarter of the semester approaches an end, many students are looking forward to the familiarity of the holidays; yet, not all households in the community are able to revel in the comfort that the season brings.
December was once a month centered around family and sentiment, full of cheer and excitement for the holidays, yet it soon spiraled into another profit-making industry. What stemmed as the month of "giving not receiving," soon turned into a paradox of itself. 
With the abundance of advertisement surrounding the season, it is easy to get caught up in the commercialism curated around the holidays. 
When focusing on producing the perfect gifts for family and creating the perfect holiday atmosphere, many tend to overlook the importance of giving back to the community–especially to households in need. Rather than succumbing to the rapaciousness of holiday deals this season, encourage yourself (and others) to concentrate your earnings on greater things.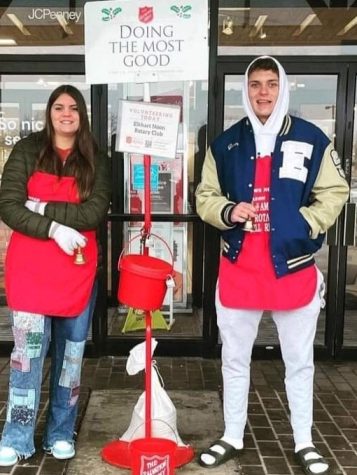 During the harsh winter, choose to contribute to the community in a variety of ways. The act of charity can include donating winter jackets, volunteering at homeless shelters, donating to food drives, or doing something as simple as donating to the Salvation Army! Supporting the familiar red kettles at the entrance of stores goes a long way, as "every dollar dropped into a red kettle helps give local families the Christmases they deserve and the yearlong support they so desperately need." (Source)
Elise Walker, a junior at Elkhart High, expands on the topic with her own experience. "I feel as though everyone in the community should take a step back and consider what's truly important during this season. A simple donation makes a huge difference in bettering the lives of those in need." Additionally, Walker agrees that the extra stress of present-giving can be completely avoided when she chooses to help out and donate, "My family and I used to do a sort of Toys-for-Tots gift giving, where we had lists of what certain children wanted, and we went out to buy them those gifts. The opportunity in itself makes me happy. I really like the idea of giving gifts to children who have never had much growing up, especially on the holidays; I feel like I've done something to help others and know that even if I made a small impact, they were still affected in a positive way…and maybe it made their day a little better." Fulfilling Angel Trees is an excellent way of doing something similar to Walker. The notable Salvation Army Angel Tree program helps provide gifts for thousands of children around the country each year, all through the help of people from within the community!
Apart from supplying humans with necessities, nonprofit animal shelters are greatly in need of extra volunteers during the winter. As it gets colder, many shelters look towards locals for donations of supplies to help take care of the animals. Anything as simple as a heated blanket or a can of food is greatly appreciated; however, it is crucial to contact businesses beforehand to know what they require the most.
Written cards to veterans and the elderly also go a long way during the holidays; remind them—during a time when many lack the presence of a family—that they are greatly appreciated and admired within the community. Walker further expresses her admiration for an organization she greatly commends, "Meals on Wheels is a program that delivers warm meals to senior citizens over the holidays who don't have access to food." Considering that an unfortunate number of elderly are blotted out as their families reach maturity, many must continue to spread the love to the older generations during this time—and year around! 
So, during a time of urgency, donate and provide a chance for a better tomorrow to those in need. Don't wait for the new year to make resolutions about bettering yourself; start now by making a difference in the community and providing a chance at a better tomorrow for others!