Lights, Camera, Action: Elkhart's Christmas Festivities Abound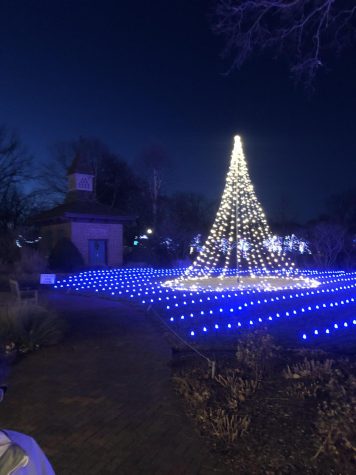 The winter season is coming up, which that means icy roads, freezing weather, and lots of snow…but, it also means Christmas! Enjoying festive activities is one of the best ways to help get a person in a holly-jolly spirit, and here are some holiday activities to do around Elkhart this season. 
Wellfield Botanic Gardens is a 36-acre botanical garden located on Main Street–just down the a few blocks from North Side Middle School. The garden is beautiful all year round, but it is especially captivating in the winter. Over 1.2 million lights are displayed all over the garden and made into creative Christmas designs. Hundreds upon hundreds of people look forward to the Christmas lights at the Botanic Garden, arriving in droves to see them every year. Sophomore Kailey Speed is one of those people. Speed recalls her time at the garden as a "joyful experience" that she got to spend with her mom and grandma. "The lights were so beautiful," admits Speed. "The colors were just really pretty." Children under 3 get in for FREE; children 3-12: $5; and adults 13 and over: $10.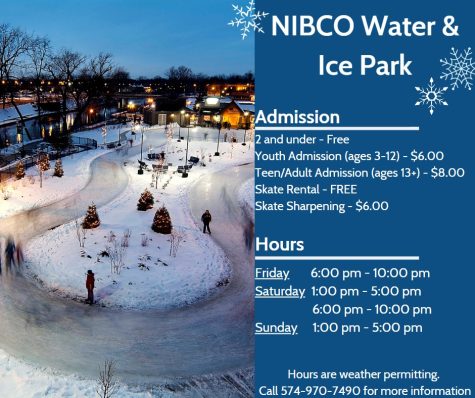 The Christmas fun in Elkhart doesn't just stop at the Wellfield Botanic Gardens, either. NIBCO Water and Ice Park is an ice skating rink that is extremely popular during the winter season. The park is open Friday-Sunday and is $8 for those 13 and above; $6 per person between the ages of 3-12; while children 2 and under get in for free. NIBCO is the perfect place to hang out with friends and family. Sophomore LaJohna Jiles has never been to NIBCO, but she would very much like to go. "I feel like I would enjoy ice skating with my family because it's something that would keep us from boredom and we'd get to spend time with each other," states Jiles. 
Don't miss out on the Christmas fun with the Wellfield Botanic Gardens and the NIBCO Water and Ice Park! 'Tis the season to experience both of these awesome and beautiful places that are sure to liven up the holidays this year!