Dungeons & Dragons: Join The World Of Role Playing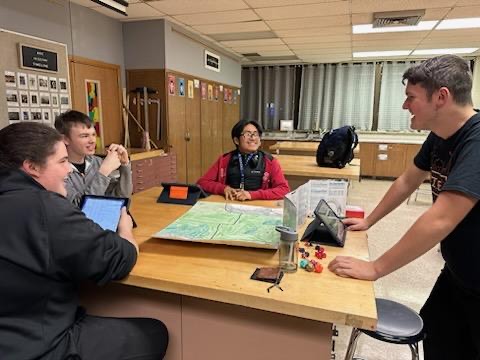 Imagine being trapped in a castle dungeon, surrounded by a ferocious monster. Fortunately, the magical weapon needed to destroy the beast is within arm's reach. However, the ability to do so all depends upon the roll of the dice. This is the name of the game when playing Dungeons & Dragons.
For the first time, the Dungeons & Dragons Club is being hosted at Elkhart High School. Mr. Arthur Hughes, an art teacher at Elkhart, is in charge–or, in other words, the Game Master. All grades are welcome to join, and no experience is required. Interested in checking it out? The group meets on Mondays and Wednesdays in room C-101 in the Main Campus  from 4-7 p.m.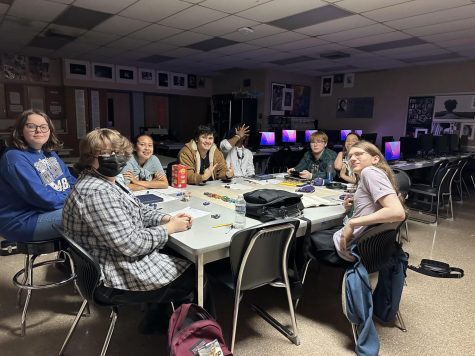 Mr. Hughes has been playing D&D since he was 10 years old, after being taught by his father. And, once he was 13, he was game mastering. Hughes has played in high school and outside of school, adding up to his playing for a total of 25 years. He has won several awards for the game, as well. Hughes states that the reason he decided to host the is because he "thought there were a lot of people who wanted to play, but it's also just a place for people who aren't very social to make friends–plus it's really fun!" 
For those less familiar, Dungeons & Dragons is a role-playing game. Players join an adventuring party where they explore a fantasy world together. Players create a character in which they roll dice, determining what happens. There is someone called a Game Master,–in this case, Mr.  Hughes–who directs the story. Together, they engage in battles, explore, solve dilemmas, and gather knowledge and treasure. 
The game "exposes students to fun and exciting ways to engage and use basic math, literacy, and research skills, as well as promotes appropriate social and leadership skills in a dynamic group environment that pushes them to solve complex situational problems." Hughes states. Elkhart students who are involved in the club also have positive things to say: "I discovered the club through having Mr. Hughes as my ceramics teacher. D&D is really fun. You get to be creative and be yourself. I would 100% recommend it to anybody who is interested," says Natalie Middleton, a sophomore. Studies show that D&D is very beneficial for kids and their social skills. Many children and young adults have difficulties socializing, and this may be just the thing to break them out of their shells!
Dungeons & Dragons is an entertaining game where players must use their role-playing skills and imagination. If anyone is interested in joining, go for it! Learning a new skill can always be fun, and making new friends can be even more exciting–even if some of them exist only in this mythical game!