Madrigal Dinner: A Festive Taste Of Renaissance Music And Cuisine
Be prepared to step back hundreds of years in time to the Renaissance period as Elkhart High School hosts a Madrigal Dinner.
On Dec. 3, the 45th Madrigal Dinner will be held in the EHS auditorium at both noon and 5 p.m. For this event, the auditorium stage will be transformed into the great hall of a castle. And, during the course of production, the Madrigal Choir, donned in period costumes, will entertain their guests with Renaissance songs that create the perfect holly-and-ivy Christmas spirit. As a dinner theater, these students will also stage a performance–which might even include the assistance of some of the guests while they feast on a festive meal of  chicken, green beans, salad, rolls, potatoes, apple dumplings, and even some wassail.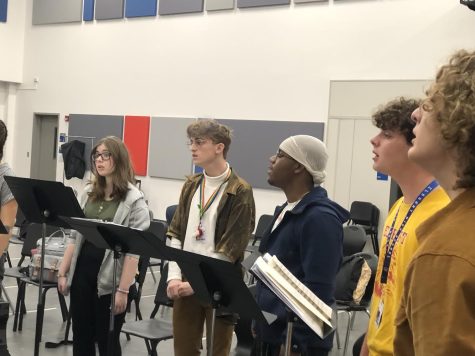 EHS Director of Choirs, Mr. Jeff Reinert, is in charge of the Madrigal Dinner this year. "This is my first time hosting the dinner, although I have attended many times," states Reinert. Though it may be his first time hosting, Mr. Reinert couldn't be more ready. "I'm looking forward to seeing the kids perform and entertain their guests," Reinert exclaims. Madrigal Choir member sophomore Noah Dibley is also looking forward to the event. This year is Dibley's first time performing at the dinner, though he helped out backstage last year. "I am playing the part of the Jester," expresses Dibley. "And," he continues, "I am really looking forward to the improv interactions between us and the audience." While the Madrigal Dinner will appear as a seamless evening of music and entertainment, the event actually takes a lot of hard work, preparation, and coordination to put together. "The dinner took the whole first semester to prepare—and we are still rehearsing!" reveals Dibley.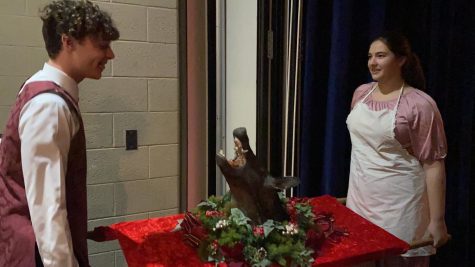 The Madrigal Dinner promises to be filled with lots of food, comedy, and fun. The performance won't just leave audiences laughing, but it will leave them blown away with the talent of the Madrigal Choir. Elkhart High School's Madrigal Dinner will definitely be a magical experience!