December 3: A & C Market Arrives Just In Time For The Holidays
One School of Study working together to create one big exciting project–that's Project Based Learning at its finest.
Elkhart High School has an outstanding event coming up on Dec. 3 at the Main Campus that has been a tradition long before the schools merged together: The Madrigal Dinner. Since the school's inception, Memorial's music department has always hosted the event, which features a Renaissance-themed dinner with music, a play, and amazing food to go along with it. Now that the two schools, Memorial and Central, have come together, the event will be bigger than ever. 
In fact, a new component has been added to the dinner, courtesy of the Arts & Communications School of Study. An A & C Market has made the cut of new and exciting attractions that anyone in the community can look forward to throughout most of the day–from 11 a.m. to 5 p.m. At this market, vendors outside the school–and even EHS students themselves–can partake in selling their creations in a marketlike setting in the Student Center. One EHS junior, Kaela White, has been working on participating on the new market with her handmade bracelets. "My project is going really well," she states. "Making metal bracelets has a lot of work being put into it," White confides. "I think of a design and then I use texture hammers to put that design onto the metal. Then you file and sand the metal. And after all that, you use a bracelet bender and BAM, you have a bracelet!"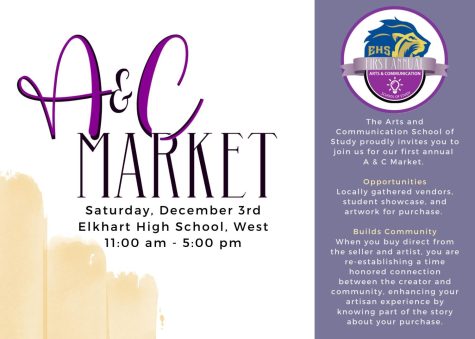 In the end, however, the hard work  pays off for these amazing students. The profit made from this will hopefully go to fund future projects for students in the Arts & Communications School of Study. The idea for this however has been in the works for over a year. "After friends of mine saw the pieces students were producing in class, they asked to purchase or commission them to make artwork," Ms. Tara Mix, a jewelry teacher at EHS, explains. "After brainstorming with others, I thought Why not try selling student work with one of the music productions/concerts? This would promote the music and art departments–along with promoting our students, especially before the holidays and getting one-of-a-kind gifts. Last year," Mix states, " there was one table with around 75 pieces of jewelry; e sold about 65 pieces!" It was after this that Mrs. Amy Stine and Mrs. Tracey Weirich discussed the concept of a fundraiser for Arts & Communications and brought that idea to the team.
To date, the A & C Market is the biggest Project Based Learning event that EHS has undertaken, with everyone in Arts & Communications–and even students in other Schools of Studies who have an Arts & Communications class–participating. "I think it's really cool that the entire School of Study is working together!" White exclaims. "I know that most people think that people who play sports or want to be a doctor are going to be the most successful, but the A & C Market is an opportunity for kids to have their art recognized and show them they really have potential to make it as an artist."
The A & C Market holds many opportunities for many to sell their arts and crafts. Just contact English teacher Mrs. Amy Stine to be able to be part of the market. When one big group all puts their heads together the outcome is bound to be unforgettable.