Getting Back On Track! (or Treat)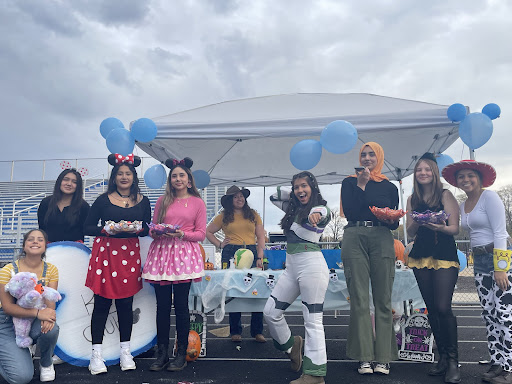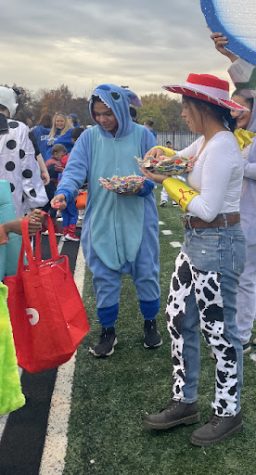 Community-led events have always been a staple of hometown living. As a small town, Elkhart has always embraced such events. One such event that people have come to look forward to is Track or Treat. This event is held every year at Elkhart High School's Freshman Division location on Rice Field. Rain or shine, all kinds of clubs and groups work together to host children and pass out candy for Halloween. This year's event was held on Oct. 30 from 4:30 to 6:00 p.m. The turnout this year, however, was exceptional and the event ran late. 
This is one volunteer opportunity that has no shortage of people on either end.  The students enjoy hosting, and the community loves to attend.  Jaqaveion Echols, a senior at Elkhart High School, remarked, "Track or Treat is one of my favorite service events.  It's fun to see the kids in costume."  This event is really interesting because groups from all different hobby interests are represented as hosts. Younger children can see all the opportunities for involvement that are ahead of them. All of the different groups get to come together to decorate a table and dress up according to the theme they come up with. For example, Key Club, a volunteering club at EHS, decorated their table with Mickey Mouse balloons and "pixie dust" for their Disney-themed table. Overall, the event was a blast for the teenagers participating, as well as the kids who attended. Taryn Null, a junior at Elkhart High School, agreed. She stated," I think we get such a good turnout with the amount of kids that attend because… It's their future high school; it's fun to go and get tons of free candy… And, such a fun and positive experience for families and young kids to celebrate Halloween."  
This year was no exception. The weather was nice and much of the community of Elkhart packed into the field and track at Elkhart High School for an evening of community and fun. Kids of all ages got to dress up, play fun games, and get tons of candy.  All in all, the event was a huge success!