Halloween Candy Haul: The Good, The Bad, and The Ucky!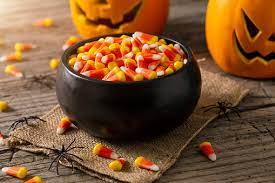 People celebrate Halloween for various reasons: the costumes, haunted houses, tradition, decor, etc. But, let's be honest about the real reason…CANDY.
The candy one receives is one of the most important parts of the night. This is why people plan exactly where they will be trick-or-treating, so they ensure the candy they receive is to their liking.  Every year, people bring a ton of their candy to school the day after Halloween–sometimes even weeks afterward. Sorting through this candy, people will look and either say, "Oh, you got some really great candy!"  or "Eww! This is the candy you got?" No one likes being stuck with the latter.
So, to test out what students think is the best and the worst candy, a small sample of 10 EHS students were polled. The top three candies are Snickers, Lifesaver Gummies, and Caramel Apple Charm Suckers. Snickers was actually a unanimous vote for the best candy. "But, they have to be full-sized chocolate bars because those are even better," insists sophomore Yandelhi Sanguines. The top three worst candies are Twizzlers, coconut candies, and "hard grandma candy."
One item that half agreed was a Halloween essential but the other half was vehemently opposed to actually eating is Candy Corn.  "The texture and the flavor is gross!" exclaims sophomore Nevaeh Link. Yet, like so many, it continues to be the first candy that she associates with Halloween. Apparently, nothing says "Halloween" better than a candy dish full of Candy Corn! But, there is also one more candy that received equally mixed reviews: Tootsie Rolls. Again, the texture is off-putting to some, while the indescribable flavor and chewiness is appealing to others. All agreed, though that it is the one chocolate teachers and parents dole out every year–most of which ends up in the trash after getting old and hardened.
Everyone's taste differs. Thus, no matter what one thinks is the best or worst candy, there will always be someone to trade with afterwards.