Pranks: A Senior's Last "Hurray"
Being realistic, senior year of high school is not the easiest endeavor for anyone. Homework, college applications, prom, and senioritis are all big obstacles in the way of a carefree year! But, being a senior high school student certainly has its fair share of upsides, as well, including senior pranks! It's that one day of the year where seniors take some risks and play hilarious pranks on teachers and other students. With this school's senior prank having occurred, now's a great time to look back at some of the past years most memorable, including the good, bad, and ugly.
Firstly, where could one start but with the Class of 2022's own senior prank this year? Of all the pranks  to be covered today, this year's rates as one of the good ones. For those who didn't see it, students snuck in after school during the Orchestra Awards Program, and took many tables into the Welcome Center. Afterwards, they took streamers and balloons before looping them between all the tables, creating a labyrinth in the most highly-trafficked area in the building, slowing progress to a halt until it was finally cleaned up. It damaged no property, but required a decent amount of effort and forethought, making it a decent senior prank overall.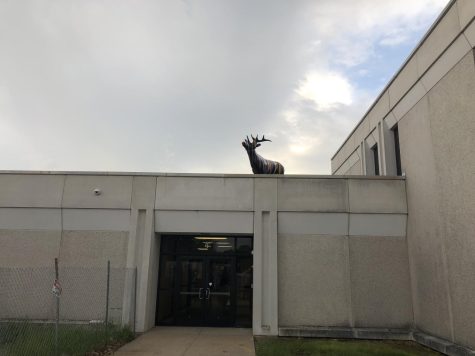 However, senior pranks of years past still are brought to mind when many of the faculty approach the subject, and here are some of the top ones. Back in 2019, the seniors that year bought mass amounts of business cards and stuck them everywhere, including in lockers, textbooks, teacher desks, and even the trim of ceilings! Rumor has it that some of these business cards can still be found today in obscure places around the school. Moving a year behind that to 2018, that class of seniors changed all of the upstairs signs and mixed them around. This prank went entirely unnoticed until the following freshman orientation, when the teachers directed all the students to just "follow the signs!" This turned disastrous rapidly and was an amazing prank which left its mark on the next year. All the way back in 1998, at Central, one of the most intricate pranks occurred yet. At Rice Field, Central's football field, a group of students snuck in one night and began to rearrange all of the white and blue seats from the ECHS formation to 1998, the graduating year. This may sound simple initially, until it is realized that every chair needed a specialized set of tools to remove them from their mounts and that they had to be oriented in such a way that perfectly counted each row and column of seats and still managed to look good! 
However, the prank most often talked about by the faculty is the one that occurred in 2016. All EHS students are familiar with the elk standing outside of the library, a stoic guardian of the books within. So, when students and teachers who usually entered from Door 4 arrived one day, it was a large surprise to see the sun cresting up from behind the resident elk! After senior awards, students pushed it into an elevator to the second floor, went through the roof hatch within the mouse lab, all the way around to Door 4!
These senior pranks were some of the highlights from past years, but there are many more to find inspiration from all over the internet. Just scroll through some of Reddit's most epic senior pranks ever and find that seniors are always finding new and creative ways to start some trouble.