The Halls (of EHS) Are Alive With The Sound Of Music
The halls–of Elkhart High School–are alive with the sound of music.
Most recently, the Jazz Choir–Gold Rush–competed a State, bringing home an impressive 6th place on March 18. Doing so made them the first music group this year to qualify for a state-wide performance. However, before the echoes of their glory have time to fade, the drum beats sound loudly for the Winter Percussion, which prepares to head to State on April 2!
Jack Coates, a junior and member in both performance groups, was extremely willing to share his excitement concerning the vocal competition. "I felt great about going to State!" Coates exclaims. "I was really excited to sing and perform with all these other people that I've worked really hard with."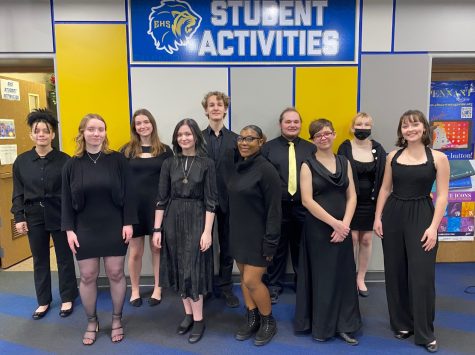 Moving forward, Coates mentions that a song titled Misty remains his favorite piece to perform–and even provides detail on the piece in question, poetically describing it to be about "love and stuff." Coates also adds that, beyond its lyrics, Misty has an appealing sound, further solidifying the reason why it is his favorite. 
With the choir competition behind him, Coates is now placing all of his attention on Winter Percussion. Sharing his enthusiasm is Aangee Mahta, a freshman in the percussion group. Exclaiming her delight, Mahta states, "I am most excited about experiencing what it is like going to State and spending time with the rest of the group!" With the Winter Percussion members being such a tight-knit group, Mahta also adds, "My experience has been great! I have fun playing–and I learn a lot of new music and techniques."
Competing with an impressive show titled Beethoven Dreams, the group knew that they had to perform their best to even make it to State. "Our expectations were to get in the top 15," notes Mahta. However, the group far exceeded those expectations on March 19, placing 7th, securing them a coveted spot at State. No matter what the results are on April 2, Mahta hopes to achieve her personal goal of "wanting to have a good run, and just overall feel satisfied with [her] own performance."
And, so, they beat on…
(Editor's Note: A Parent Preview for the Winter Percussion's performance routine will be held at 7 p.m. on Friday, April 1, in the EHS main gym. All are both welcomed and encouraged to attend.)