Matilda: After Curtain Call!
On Friday, March 11, Elkhart High School's production of Matilda the Musical debuted–and students have been raving about it ever since.
For instance, Vanessa Lopez, a sophomore at EHS, went to see the musical with a group of friends, and she was amazed! She explained, "I brought three of my friends, and we all had a ton of fun! While we watched the show, we talked about what scenes we liked, laughed a lot, and had a great time joking around with each other."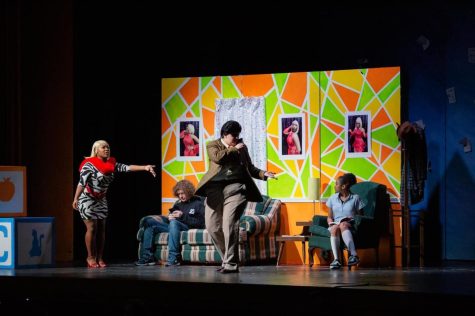 It is no surprise that Matilda the Musical was such a great hit, as the cast and crew had spent months putting a ton of effort into stage design, perfecting their vocals and lines, and creating the fully immersed world of Matilda. Mrs. Kristin Baker, the director and a teacher at EHS, expressed, "There are a lot of set changes and special effects in the show. We have to give the illusion that Matilda has magical powers and bring things in her imagination to life–like a girl flying, a cup tipping, ears stretching. an entire cake eaten in one sitting, and a circus trapeze trick gone wrong. We used a unique combination of creativity and lighting/sound/animation/ props to bring the magic to life, and it's awesome!" That's not all, however. Mrs. Baker went on to talk about some of her favorite songs and scenes from the show. She stated, "Everyone is so talented, and there are so many great moments. But, if I have to pick, Chyniah Woods singing the song Loud (which is a huge song with a wide range) while dancing and doing a cartwheel into the splits is incredible. Every time she sings, it's like Beyonce is flying out of her face! A close second and third would be Chris Alonso-Benito as Trunchbull dancing with a rainbow ribbon and Andrew VanAtta playing a human ballerina version of a chocolate burp." 
Lopez was also impressed by the actors' vocals and their overall acting abilities. She explained, "My favorite part was when the person who played Matilda's mom started singing. She has an amazing voice! Miss Trunchbull was my favorite character, though! The person who played her was really funny in many ways. They all did a really good job!"
All in all, this year's school musical production was a tremendous success! Students and parents alike were all stunned by the cast and crew. Mrs. Baker, the cast, and crew all did a fantastic job bringing the world of Matilda to life. Mrs. Baker was even  extremely impressed with how it all turned out. She revealed, "The best part about directing a show like this is the process with the students. Watching them come to life in their characters or transform an empty stage into a whole other world is an awesome thing!" This is something that everyone can agree on. Just like how everyone can agree that they can't wait to see what happens in next year's musical!