The Revival of Vinyl: Get In The Groove!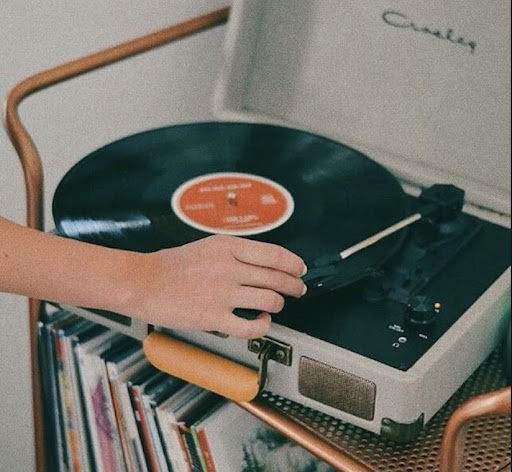 What goes around, comes around. And, the time has come to spin those records on repeat.
Records–not a record, as in a ledger that is written daily to keep track of things, and definitely not an achievement that can be beaten by someone else–these records offer something worth listening to. To a generation who may have never even seen one, a vinyl record is a musical recording that comes in the shape of a disc, like a CD, but much bigger–and better in sound.
Talking about records, though, can be confusing. To start with, records come in different sizes–7, 10, and 12 inches–as well as different speeds: 33, 45, and 78 revolutions per minute (RPMs). Regardless of size or speed, each one is put on a record player (also known as a phonograph) to be played. Inconvenient, right? Just wait; it gets better! The smallest ones (7-inch records) were commonly referred to as 45s. One side featured a song the artist hopes will be a hit single to draw listeners into purchasing the larger album–which was usually a 12-inch 33 RPM record. On the flip side of a 45 would be a lesser known song. Each side had roughly a 3-minute play time only. Fun fact: In 1948, the popular 78s of that day could hold an impressive 21 minutes of play on each side.
But, with digital downloads at one's fingertips, why would anyone bother with this "boring" and "archaic" way of listening to music? "It's just a fun hobby to pick up and just do," shares sophomore Mia Stamp. "I like listening to music off a record player because of the clear sound it gives." Encouragingly, Stamp adds this: "It's definitely something others should look into getting and doing!" 
Considering in the United States alone there was a 38 percent rise album sales in 2021, it seems that Stamp's message is getting out. That number is even more impressive, knowing this is the second time (the other in 2020) since the 1980s that vinyl records out-sold CDs. Artists–such as Harry Styles, Billie Eilish, and Taylor Swift–who choose to produce vinyl may be partially responsible for the rise.
However, oldies-but-goodies are also readily available online–or in a grandparent's collection! "I have vinyl records from Frank Sinatra to ACDC," boasts Alan Canales, a senior at EHS. The wide variety of music to choose from may account for the fact that 19.2 million records were sold in the first half of 2021 alone.
Clearly, the return of records may not only a fun hobby to have, but it could be the wave of the future in music. So, get in the groove! Listen to what vinyl has to offer.