A Tornado Hits 5 States…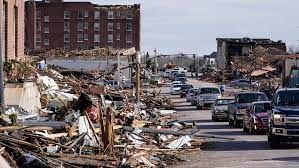 A tornado hits 5 states…
This tornado was recent, it passed by Kentucky, Illinois, Missouri, Arkansas and Tennessee. In Kentucky the tornado hits a candle factory, owned by Bob Fengusan. The tornado knocked down the candle factory, killing 8 people and 8 others remained missing. The candle factory is located in Mayfield Kentucky, the tornado passed Mayfield Kentucky. There were more than 100 people working. 74 dead in Kentucky. This one was one of the hardest hits.
Along with the death of a 3-year-old in Graves County, Kentucky, there were 12 dead in Warren County, Kentucky, six dead in Illinois, four in Tennessee, two in Missouri, and two fatalities in Arkansas.The storm was so powerful that a photograph from a tornado-damaged home in Kentucky was found almost 130 miles away in indiana. Beshear said four tornadoes, one of which stayed on the ground for more than 200 miles after touching down, had swept through the state. Almost 60,000 Kentuckians had been left without power, he said.In Arkansas,surveys from the National Weather Service showed three tornadoes across the northeastern part of the state.One person was dead and five were seriously injured when an apparent tornado struck the Monette Manor Nursing Home in Monette, Arkansas.
More than 35 tornadoes were reported Friday evening responsible for at least 50 deaths across several states as officials continue searching for survivors.