Putting Their Heart Into Their Art
Elkhart's art teachers transform their hallways into a type of Main Street, complete with cafe's and art shops.
It's impossible to spell Heart without Art—and Elkhart's art teachers have taken this to heart by envisioning an amazing "Art Complex" within the East Campus.

Everybody knows that sterile-looking school hallways create an atmosphere that is equally boring and dull, which is why the art teachers and students are intent on making their part of the school as enjoyable and entertaining as possible. Mrs. Beth Stokes is in charge of the plans for the art hall, but she is not alone in the designing and creating of it. Alongside her in this project are the other art teachers as well as a host of talented student artists.
"I have teenagers at home whose friends are always at my place claiming there's nothing to do around Elkhart," Stokes begins. So, she decided to "create a hangout for students" to "come and have some fun." If students are interested in helping out during a study hall or after school, they can email Mrs. (Sokolowski) Stokes at [email protected]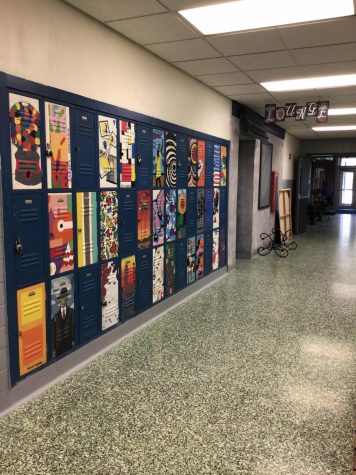 With a stroke of the paint brush, the art hallway is being transformed into what looks like Main Street. Inside the rooms are a cafe, a room for students to make up art assignments, an art sale room or the art shop, a splatter paint room, and, of course, all the activities that come with it.
For the Fall of 2021, there will be a schedule for when certain activities will be available. The activities will feature Fluid Art, Board by Design (painting classes), Painting Pallet, Ceramic Studio, and Splatter Art. On down the line—later in 2022, or the early days of 2023–there will also be sewing classes.
The classes will be able to seat 24 artists for $15 per class…or $240 for the whole semester. Or, if wanted, Private Parties and Art Kits to Go are available upon request.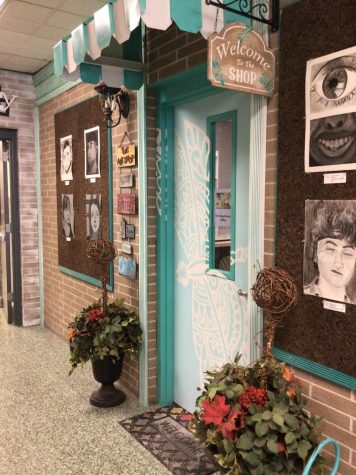 Along with the art classes, the Student Lounge will have its own schedule, too. With things such as $5 Craft Nights, Game Nights, $5 DIY Food Art, Competition Night, and Friday Socials. On Craft Nights, students will be making projects like duct tape wallets, beaded bracelets, candles, flubber, and more! The next evening would be Game Nights, with games such as Corn Hole, Spoons, Pie Face, Sorry, and other lively games to play. On Competition Night, there will be games such as Are You Smarter Than a 5th Grader?, Mario Kart, and everyone's favorite, Family Feud, which sadly is not being hosted by Steve Harvey but will still be loads of fun.
Though it may seem as if the kids at East Campus will be having all the fun, West students shouldn't worry! There will be a bus to transport students from the West Campus to the new Art Complex in the East building, so the students across town can enjoy the fun, too! Many students currently in art–or have study halls–have been working hard to make this all possible for future Elkhart High School students.  Thus, as this school year is coming to an end, Mrs. Stokes and the Art Department will be just getting started.
The outcome is sure to be a masterpiece!