Tryouts for the annual Coffee House Talent Show are March 12
Music teacher Molly Kellner gives GENESIS the details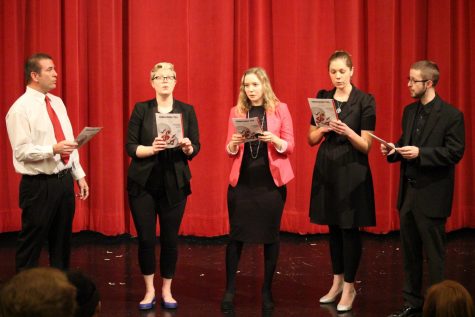 The annual Coffee House Talent Show is right around the corner. For event details, check out the Q & A with event coordinator and music teacher Molly Kellner.
GENESIS: When is this event?
MOLLY KELLNER: "Thursday, March 28 at 7 p.m."
G: Where does it take place?
MK: "Little Theater here at EMHS."
G: How do you sign up to compete in the talent show?
MK: "There will be sign-up sheets two weeks before the auditions (beginning of March) up on the bulletin board for Music in the main hallway."
G: Does your talent need to be approved before performing? How do you get it approved?
MK: "Yes, that is why there are auditions. If someone is curious if their act is okay or if they need help brainstorming, come see me in D116 (music department)."
G: What are the requirements?
MK: "[Your act] needs to be performance ready and memorized at the time of audition. If there is accompaniment (piano or instrument for example), it is strongly encouraged to be live instead of a track or Youtube video. It should be school appropriate and non-offensive if it is a comedy act. Overall, a good performance (notes are correct, student has good stage presence, etc.)"
G: Is there a certain age limit?
MK: "No, even staff can perform! (staff don't need to audition)."
G: When does it begin?
MK: "Auditions are Tues. March 12 after school (depends on your sign-up time) and if there is a conflict with that day, I am also available the next day on Wed., March 13 after school, as well."
G: About how long does it last?
MK: "Both auditions and the show length depends on how many people audition and make it; last year's show was a little over an hour with 12 performers."
G: Do you have to sign up to come watch?
MK: "You do not!"
G: Is there a fee to attend or be a part of the show?
MK: "There is, currently the admission fee is $5, but I will work to see if we can do a discounted family price."
G: In the past, what type of talents do people perform?
MK: "Many students sing or play an instrument. We've also had comedy acts, dancing acts, reading a students' own compositions like poetry, special talents. We encourage collaboration between different departments!"
G: Is there a winner?
MK: "Last year for the first time we had the audience members vote (via Google form) for the person they liked the best. Everyone is a winner, but that person whom they vote Coffee Houses' favorite act receives…"
G: Is there a prize?
MK: "A Biggby gift card! (to fit the coffee theme)"
G: Anything else you would like to add?
MK: "There will be students who volunteer to serve coffee, hot chocolate, and tasty treats to the audience members (free with ticket)! If a student wants to volunteer to help serve, they can email me or see me in my office."
There will be a list posted after the auditions with those who made it through, and after that, it is a requirement to get together with me at least once to rehearse the act before the show to fine tune and give suggestions. I will schedule these based on the student's availability (could be after school, but we will try for during advisories…they just tend to fill up quickly and they're not very long to begin with)."
If you have any other questions be sure to email Ms. Kellner!